Concert Review
Club Regent Casino, Winnipeg, Canada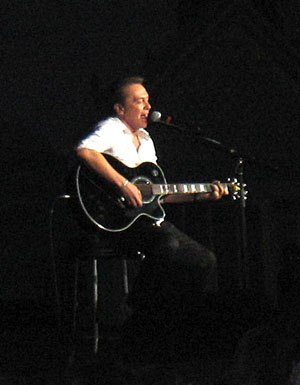 February 14, 2008
WOW, I have to say I was impressed. It was another packed house, roughly about 500 people (I could be wrong a bit with the count.) It was a mixed crowd with about 1/4 of it being male. I was shocked, and these guys liked David's music, not just hubby's accompanying their wives.
He did a ton of songs, sorry can't remember the first one, but it was a popular well known one from the PF days. David cracked many jokes throughout the night (he was really funny). He got one pair of underwear tossed at him (thank goodness only one, which he gave back to the person). He was also given about 1/2 dozen roses, and said he just about had enough to give to his wife. AND............David forgot his show shoes at home, and actually did the concert in his slippers (very nice looking ones too).
He introduced the band, and the newest member, a guitar player who was VERY impressive, his name was Ryan. And of coarse someone asked him how he liked the weather, and his answer was different then the chat. He said it was STUNNING, as in your stunned as how cold it could get in one place on earth. His words to the audience were "HOLY SHIT it's cold, Jesus Christ who the hell lives here." To which everyone applauded, because we're a tough breed up here.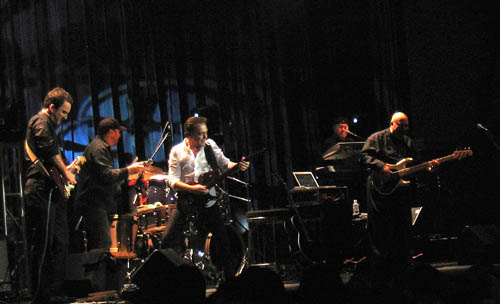 David said he was sorry for not coming to our city earlier, and said he "might" try and come back in the summer (yipee mosquito season, he'll love winter better).
Joey Gregorash was the MC, he's a canadian singer that was a one-hit wonder in the 80's.
Here are some of the songs he did: he did an Eric clapton song, Point Me In The Direct Of , Echo Valley 26809, I'll Meet You Halfway, Hide your Love, Ain't No Sunshine, Cherish (everyone went nuts with that one), Come On Get Happy, I Woke Up In Love This Morning, I Think I Love You. And the ENCORE, as announced in the chat today..........Yep he did CRY. There were about 3 or 4 more songs, but I didn't write them down. Same White Shirt and black pants I think he wore at Mohegan.
The concert started at 8:00pm and ended at 9:45. Making it well worth the $50 to see it.
Valinda