Concert Reviews
Mohegan Sun, Uncasville, CT
February 9th, 2008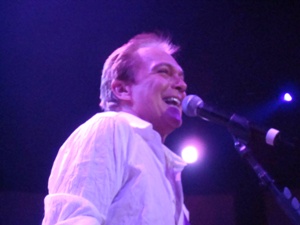 This past weekend at Mohegan was definitely one of the best EVER!
I'm not sure WHAT exactly made it so fun, but I had such a good time. Nothing out-of-the-ordinary really happened, so I guess maybe I'm just getting used to the queuing?
I arrived Friday afternoon and headed over to the Wolf Den after checking into the hotel. There was a Johnny Winter concert that night in the Wolf Den, but I wanted to see if there was possibly a line forming for David's show the next night. There was not, so I knew I didn't need to worry about getting in line until early Saturday morning. I was supposed to meet up with Rob but I wasn't sure where he was. I decided to chat up a few people while I was waiting, and I was standing outside the Wolf Den on my cell phone, when someone tapped me on the shoulder, and it was Rob! From the minute we met, I felt completely comfortable with him, just like I knew I would. It felt like I had known him forever. We went out into the shopping mall area so I could show Rob around. We ran into several people from UK. I introduced Rob to all of them, and then we wandered around a bit. We grabbed some dinner at Fedalia's, and then Rob wanted to gamble a little, so we decided we'd meet up at the Wolf Den in the morning.
Saturday morning I woke up real early so I decided to head over, and I arrived about 6:30 a.m. There were 2 people in line, YAY! We're sure to get a great table now! As the day progressed, more and more people arrived. By afternoon the line was HUGE! Probably the biggest line I've ever seen for David there. We got our "usual" table, in the front, slightly to the left side.
Let me back up a bit. In the early afternoon, the band came out to warm up. I was pleasantly surprised to see Jim Bach (I think that's his last name) as guitarist. I've seen this guy a few times before, and he is very good. His ponytail is almost to his waist..oh lordie, I just can't stop looking at his hair! It is magnificent! They practiced lots of songs, so we knew what we'd be hearing later. I was happy to hear them rehearsing Rock Me Baby, which he doesn't play very often. Remember the bongo player I talked about from the Oklahoma show? Well he wasn't there so I guess David was just kidding when he said he was a "new member of the band."
Ok, so we're at our table. We explained to Rob the "rush for the stage" and about that time the band came out, so we jumped up and claimed our spots at the stage. Rob was just to the left of David's microphone and he looked a bit excited! So many girls had brought gifts for David, and posters, and memorabilia, it was unbelievable.
He took Lizbeth's scarf with the screenprinted shots of David (made by Silvia, same girl who made the lyrics shirt, and equally wonderful.) He put the scarf around his neck and wore it for a song and gave it back to her!
And of course he took Joyce's lei (a gorgeous one with red and pink rosebuds). In fact, he stopped what he was singing to say "Oh wait, I have to get lei'd now." He let Joyce put it on him, then came back to the microphone and started singing an Elvis song (One Night With You), and amazingly enough, the band started softly playing along, and David ended up singing almost the entire song. David laughed and said "we have NEVER played that before and they didn't even know I was going to sing it, REALLY!" Then he remarked about how wonderful his band is that they could improvise like that.
He then remembered that he had started and stopped ITILY, so he had the band re-start the song. During the song he came back to Joyce, bent down and took her hand, and said "thank you sweetheart, you are the BEST!"
And then he looked at me, next to Joyce, squeezed my hand, and then did one of those slide-his-hand-under-my-chin things. OMG I about started to cry. He ran offstage with the lei still on, but came back a moment later for his encore, Cry. (Quite appropriate!)
He reminded everyone to watch Oprah on Tuesday, and said she was a remarkable woman.
It was such a great show and a great night. Rob looked like he was in heaven, and when David took his hand and roughly shook it, I think Rob actually blushed!
Love Carol