David Cassidy in Concert
Tuacahn Amphitheatre, Ivins UT.
May 9, 2008
FINALLY FRONT ROW!
It took nearly 6 years for me to finally realize two of my lifelong dreams: sitting in the front row and getting into a M&G.
Even as I was walking through the backstage area, I couldn't believe I was actually going to be meeting David.
David was late for the M&G. He had a good excuse: a pinched nerve in his neck from the 40+ hour commute. In fact, the concert was supposed to start at the same time the M&G started.
He walked into the room and looked gorgeous! He was wearing an outfit I hadn't seen before: tan jacket, white shirt & brownish pants. The pictures on his site simply do not do him justice! His hair is back to his regular cut, not spikey. He had a lot of hair spray on it. I figure he did because it was quite windy in the desert. It seemed, though, that the weather was really agreeing with him. David told us how he wanted the M&G organized: there would be no autographs and photos were only going to be taken by the venue's camera. When it was my turn to walk over, I kissed him, said "Thank you for the upcoming British tour." He put his arm around me oh sooo quickly and tightly and asked, "Oh, are you coming?" Yes..yes I going to all of them, ALL of them. "And you are" I'm Doris. "Oh are those pukka shells?" "Yes!" (I think David was loving my necklace.) Handing him the roses I had brought him, I said, "These are from me and this is from my friend in the UK." I then kissed him for her. Off went the camera! David tells them to take another picture. He held my roses until a guy came up to him. Then he put them down on a chair . Later they took my roses to his dressing room. After everyone got their picture taken, David thanked us for coming. He told everyone to enjoy the concert and to "make A LOT of noise"!
I was still beaming when I took my seat in the front row.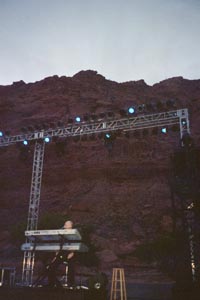 The concert was great! One of the best and LONGEST concerts I've ever attended. David came over to me on four songs: "Could it be Forever," "How can I be Sure," "I'll Meet You Halfway," (Remix version) and I believe, "Summer Days". I stepped up on the stage steps, he held my hand as I kissed him each time. I just couldn't believe my good fortune. I had already kissed him at the M&G and he came over to me during the concert! Only on the last 2 songs and a few songs before intermission were we able to stand at the stage. When I was there, I was able to touch him a few more times. Wow!
That night David was in a very silly mood. He deviated from his routine quite a bit, and the band did not know what he was going to do next. He sang "Point me in the direction of St. George, Utah", LOL! Someone gave him a cell phone for "Echo Valley". It had the cutest charms dangling; one of which is the keyring from David's fanpack. When David asked her to retrieve her phone, he spoke some Japanese to her because she was Japanese-American. David never ceases to amaze me with all he knows!
He played a very long acoustic set: "No Reply," "Blackbird (partial)," "Hide Your Love Away," and "I'll Meet You Halfway." On, I believe, "Hide Your Love Away," he asked everyone light up and swing their cell phones. As it was dark and in a natural amphitheater, I could see the lights all the way up to the top of the *bowl*. David thought it was so cool and had Terry take pix. As it got darker, so many moths and other bugs were buzzing around David's head, he said, "Could someone please turn off the bugs?" LOL! He tried to sing with clinched teeth because bugs kept flying into his mouth! He talked on and off about touring the UK last year with the Osmonds (I was there!) and how he'd liked to play this venue again, maybe with the Osmonds (great idea). When he caught someone in the 4th row using binoculars, he said, "What? Are you checking to see if I have pimples?" LOL! He liked the fans further up who had made large signs like I Love You David. He liked that they were making a lot of noise. He said they should be down front sitting on pillows!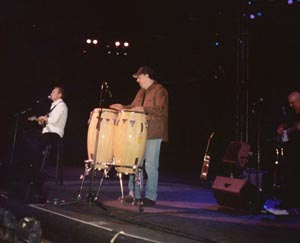 Someone requested "Do You Believe In Magic". He talked about how he used to do it but it's really Shaun's hit. Who's Shaun? "Oh Shaun...my brother." Who? "Oh you know, Shaun... Shaun Hardy!" LOL! He told everyone he's going to be back on American TV this fall (lots of loud cheers, I'm SO glad!) and that Shaun has 4 pilots for this fall season. The show David is starring in, is going to be about David and his brothers in a band. He said he's always wanted to be in a band! He talked to a few of the kids running around in front. They were a bit shy. David said "Oh, am I scary? I love kids, I have 2 of my own. I'm a good guy.really, I played Keith. You know Keith!" At one point David invited all the little kids up on stage for a group photo. Watching David organize them (some didn't want to approach him, LOL!) was just precious! He did a song I've never heard before. I LOVED it. It was "Sweet Little Angel," a blues song. He started ITILY by singing "Well I was vacuuming in..my guest room" (hmmmm!) He did "Cry" as his encore. He said that despite our clapping and cheering for him to come back on, he already planned this encore. He sang it for his father as he usually does.
All this for a $30 concert ticket! Wow!!! Outdoors under the setting sun, then the moon and stars, with David singing, what could be better? I had a great time on the trip. Beyond AWESOME! I would expect no less in Tuacahn: It's canyon of the gods. I love Utah; they sell me front row. And yup, that's me in the Spectrum.com article. I'm the one "who flies around the country and the world to see David Cassidy in concert."