David Cassidy in Concert
Tuacahn Amphitheatre, Ivins UT.
May 9, 2008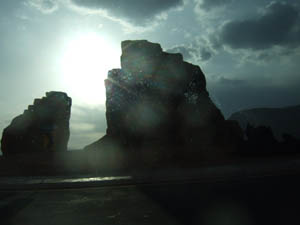 The Tuacahn Amphitheater is set in a stunning valley of 1500 foot red rock cliffs. It is a beautiful, natural environment in Ivins, Utah. I was moved by the breathtaking beauty of the place. David was in a great mood also and played for over two hours to a large enthusiastic crowd.
He started with the usual Heartbeat, and sang Could it Be Forever, Then he did a great bluesy number and really rocked the house with a song called Sweet Little Angel, I LOVED him singing like this live it was brilliant and heartfelt.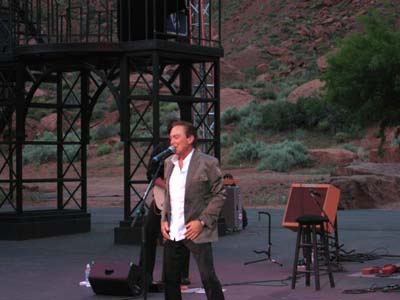 He talked a lot in between sets and was so funny! He mentioned the wind and how he had to put 15 or so sprays of hairspray in his wig! "that's my first lie" he said I'll try not to do it again, but during the course of the evening we were treated to a second, third and fourth lie, That made me laugh. He was honest and real.
He sent the band off stage and did the usual Beatle's tunes he's been doing at most shows, but he also treated us to I'll Meet You Halfway acoustically, which was a treat. Not to worry he sang the fast version later on in the show. I'm sorry I can't remember all the songs but I know he did How Can I be Sure also and while he was singing acoustically he sang one line from Where is The Morning...a beautiful song and I wish he'd have done it all but maybe that was just a teaser for things to come. He sang "I Can't Sleep Tonight" I just wanted the next line...I found someone but it didn't come.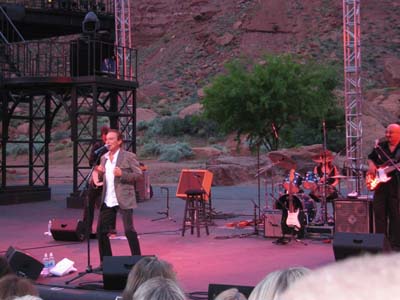 This was the first time I had heard him talk politically and it was great as a fan to hear his views on something like this especially since they are close to my own. He stated how in almost 40 years he's never talked politics at a show but this year with the war and how it was started with lies he felt strongly about it. RIGHT ON DAVID someone in he audience shouted "That's enough shut up now" and I'm glad I wasn't sitting near that person, but David said, you're right I'll shut up now but please go out and vote with your heart. Had that person not shouted I think David might have gone on to endorse Obama or Hillary but he made it obvious his views were NOT republican and I loved that.
The band came back on and David did the intro for the band which is always fun, I loved when he introduced Terri the drummer he let her play for quite some time it was brilliant, she can really rock! I laughed when he introduced the new guitar player cause he said Rob/Ryan (the guys name was Ryan) but David was cracking me up all night and while I can't remember the specifics his mood was great.
I remember the last time I saw him play C'mon Get Happy I said I could have done without that but not on this night, David could have sang anything, the mood was electric. I was ecstatic to hear C'mon Get Happy and so were others in the audience I noticed younger people who might not have been familiar with David's work who really seemed to be enjoying the show. The Blues, The Rock, the Pop, it was all there, A great band and great show in all. We sat mostly during the show but there were a few times we were allowed to go to the stage, David gave me that Man-Shake once again and smiled, just want to say a big Thanks to David for recognizing his male fans and not leaving us out.
At one point in the show he asked everyone to light up their cell phones and wave them, since it was getting dark and we all did it was a beautiful, magical experience.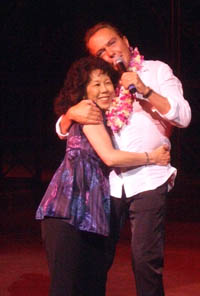 As it got darker the bugs were flying around him and at one point I think he even ate a moth! but he carried on through it all and joked about it. He brought a group of kids up on stage for photo's it was cute he was hugging the girls and giving the boys a high-five, I'll bet he's good with kids.
David called Joyce up on stage (left) when she presented him with the lei during Cherish and told the audience that she's brought him leis everywhere he plays.
He also spoke about his new show and said he had done 4 pilots (or episodes) with his brothers. He said it was something about being in a band he had always wanted to be in a band, and the name was Rosie and the Rockits (I think). Looking forward to that this fall. I hope it's a hit.
He sang cry as an encore and at one point he seemed to tear up and said "Daddy if you're listening I love you and I forgive you".
What a way to end the night. David if you're reading...Thank you, I love you.
Robert