Concert Reviews
The 2002 Australian Concert Tour
David Cassidy Live in Brisbane
November 7th 2002.
Brisbane Entertainment Centre, Australia
By : Alan Jespersen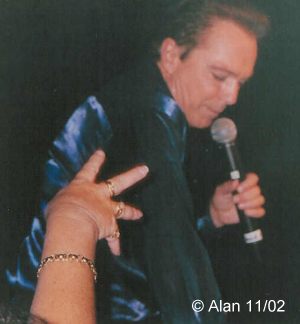 From the moment David stepped out onto the stage at The Brisbane Entertainment on Saturday 9/11/02 just a little after 9.00pm the audience of just over 2000 knew they were in for a trip back to the 70's and that is just what we had all come to see !
Starting with Heartbeat, the audience rose to their feet flooding to the front of the stage where they mostly stayed for the entire show.
David was in top form and chatted freely with the audience answering questions in between songs and just generally giving everyone the low down on what he had been doing since he was last here in Brisbane 28 years ago.
The audience was mixed both men and women which only goes to prove that David's appeal was and still is universal, mothers with their teenage daughters who had obviously grown up on a healthy diet of David Cassidy / Partridge music sat spell bound as David sung an almost complete back catalogue of his hits including The Last Kiss which the band seemed to be having a bit of trouble with, the only noted disappointment was that he didn't include Daydreamer, or I Am A Clown in the set which struck a bad cord with some fans, and another disappointment was that fans sitting to the side of the Entertainment Centre who had paid of Gold Tickets were not allowed down on the floor to dance or to be at the front of the stage. People were told that security was the reason but a lot of that was soon forgotten when the audience were treated to glimpses of a 70's David in concert, PURE CASSIDY.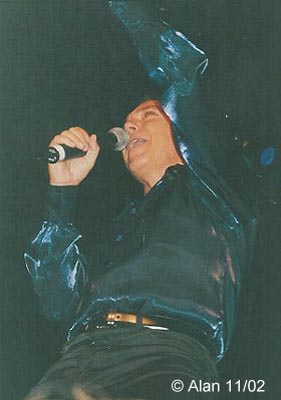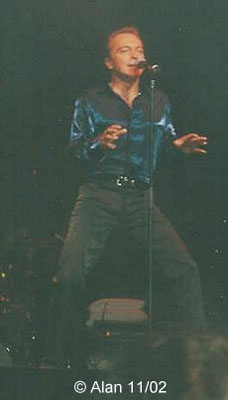 It was a fantastic experience for a first timer like myself to be at a David Cassidy concert, I was blown away by this wonderful performer who I had come to know 33 years before, and I say this not only for myself but I am sure for all his fans in Brisbane, "David you are welcome back here anytime".
Alan