David Cassidy : Cherish
1972 BELL Records : USA Bell 6070, United Kingdom Bells 210, Japan BLPM-1, Taiwan: FL-2186 (First Record), Melody Records: SS-6014. Rereleased on CD on Buddha Records in 2000: 74465 99751 2 (remastered)
Produced by : Wes Farrell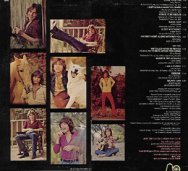 Front and back cover of LP
Album Design : Michael Mendel
Photography by Henry Diltz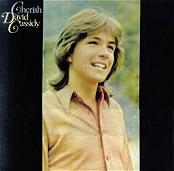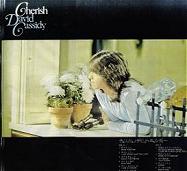 Front and back cover of LP from Japan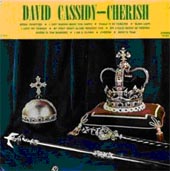 Melody Records front cover.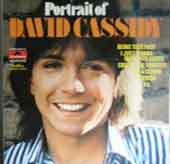 Portrait of David Cassidy cover
Portrait of David Cassidy was released in the Netherlands in 1972 by Polydor 2484 141. (Golden Crown Series)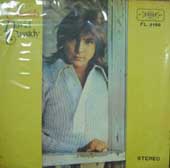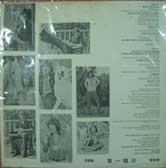 Taiwan LP: Front cover, Back cover and Record.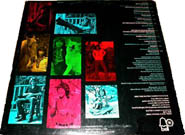 Israel LP: Back cover. Front cover is the same as the US Front.
David's first solo album. Hit no. 15 on the US charts on Feb. 19, 1972, and stayed on the charts for eight weeks. In Britain, it hit no. 2. Reissued on Melody Records, which had a different cover. Taiwan issue has a flimsy paper cover. Picture is the same, but instead of black border on either side of the front cover photo, the border is yellow. Back cover pictures are in B&W.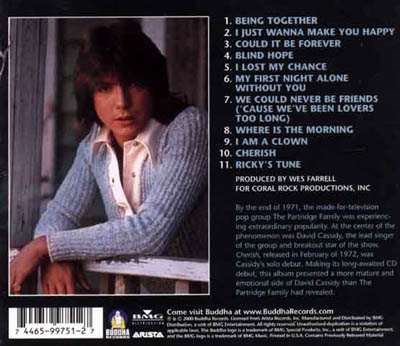 Back of the Cherish CD.
Acknowledgement : Thanks to the fan who contributed pictures of the Japanese LP cover on this page.