DVD's and Videos
Glam Rock
David Cassidy sings Rock Me Baby on this DVD compilation featuring television appearances from some of the leading acts of the Glam Rock movement!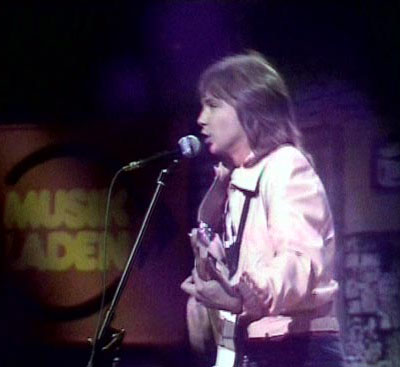 David singing Rock Me Baby on Glam Rock DVD.
Rleased: December 30, 2003. ASIN: B0000CA1GS, Ventura Distribution.
David's Rock Me Baby clip is from the German music show "Musikladen" located in Bremen.
Tracks
1. T. Rex "Jeepster"
2. Roxy Music "Virginia Plain"
3. Suzi Quatro "48 Crash"
4. David Essex "Rock On"
5. Sweet "Teenage Rampage"
6. Bay City Rollers "Bye Bye Baby"
7. Medicine Head "How Does It Feel"
8. Lulu "The Man Who Sold The World"
9. David Cassidy "Rock Me Baby"
10. Smokie "If You Think You Know How To Love Me"
11. Steve Harley "Here Comes The Sun"
12. Tom Robinson Band "2-4-6-8 Motorway"
13. Showaddywaddy "You Got What It Takes"
14. Nazareth "Love Hurts"
15. Dave Edmunds "Here Comes The Weekend"
16. Rod Stewart "Tonight's The Night"
17. Roxy Music "Do The Strand"
18. T. Rex "20th Century Boy"
19. Mungo Jerry "Alright Alright Alright"
20. Alice Cooper "Public Animal #9"
Details on where to purchase this DVD here.