Partridge Family Singles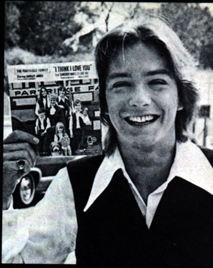 David with the single I Think I Love You.
I Think I Love You/ Somebody Wants To Love You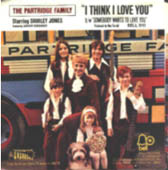 Released: October 1970 (Bell Records) Catalog number: Bell 910
Issued with a picture sleeve. Hit No. 1 on the US charts on October 31, 1970. The single, which stayed in the top spot for three weeks and was on the charts for a total of 16 weeks, went gold and sold more than five million copies worldwide. On the British charts, the single (Bell 1130, no picture sleeve) hit No. 18 on February 27, 1971. It stayed on the charts for 10 weeks.
German issue (Bell 910) has orange art sleeve with song title in big blue letters.
Japan sleeve (Bell 88037) has early color shot of group in front of bus. Has lyrics, liner notes. Record has blue Bell label, as opposed to the standard grey label used in America.
Portugal sleeve (Bell 006 92 006), group is pictured near bus with producer Wes Farrell. Very nice, very different.
Italy issue (Bell-International Sir-BI 20.143) has strange art sleeve with lips, hearts and peace signs. Record has black Bell label.
Israel issue (BLL 1130) has a grey border with the American release picture in the middle.
The single from Yugoslavia has a very unique cover with a woman's face split in two. The single was released by Jugoton SBL - 8423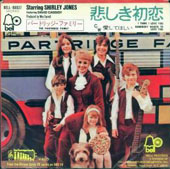 Japanese issue.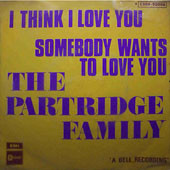 German issue
Israel issue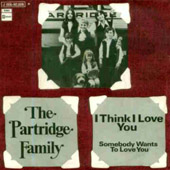 Spanish issue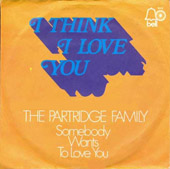 German issue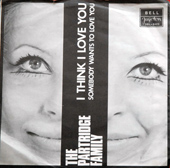 Yugoslavian issue
I Think I Love You/ Friend And A Lover/ Breaking Up Is Hard To Do/ Money Money
Mexico release.
Catalog number: Bell 10782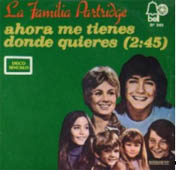 I Think I Love You / Somebody Wants to Love You / You are Always on My Mind / Doesn't Somebody Want to be Wanted
Released in Australia.
Catalog number: Bell records BLEP 1003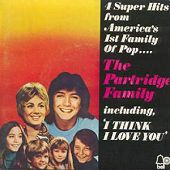 I Think I Love You / I Can Hear Your Heartbeat / I'm On The Road / Only A Moment Ago
Catalog number: Bell-78008
All About David Cassidy is a Japanese 4-track stereo 7" EP in a pasted gatefold hardcover with a photo of the Partridge Family in front of bus. It also includes an integral fold-out colour poster of young David and a lyric inner.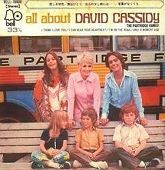 All About David Cassidy.