Partridge Family Singles
Am I Losing You / If You Ever Go
Released: March 1972 (Bell Records) Catalog number: Bell 45-200
Japan issue (Bell BLPA 16) has gatefold sleeve, similar to Shopping Bag LP cover. Has lyrics, liner notes.
Spain issue (Bell 2008 053) has off-white sleeve with group members' heads surrounding a drum.
Germany issue (Bell 2008 053) has blue and green cover with a green photo of David Cassidy and Shirley Jones.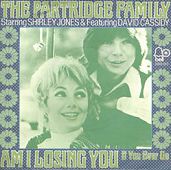 German single
Breaking Up Is Hard To Do / I'm Here You're Here
Released: July 1972 (Bell Records) Catalog number: Bell 45-235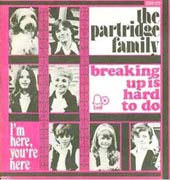 The single hit No. 28 on July 29, 1972, and stayed in the US charts for four weeks.
Italy issue (Bell 2008 079) has color group shot with clouds in background.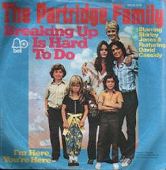 Italian single.
Released in Mexico (Es Dificil Decir Adios & Aqui Tu y Yo) Bell 197.
I Think I Love You / To Be Lovers / Only A Moment Ago / I Can Hear Your Heartbeat
Released: Mexico 1971 Catalog number: Capitol EPEM-10485
Sleeve same as the Partridge Family Album LP.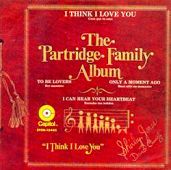 Now That You Got Me / As Long As There's You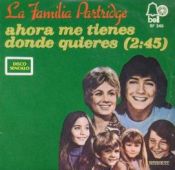 Breaking Up Is Hard To Do / I'm Here You're Here / Am I Losing You / It's One Of Those Nights
Es difícil decir adiós
Released: Mexico 1972 Catalog number: Bell 2213 019