Talking Records
Saturday Scene
Released: 1974 Catalog no.: Phillips 9299-270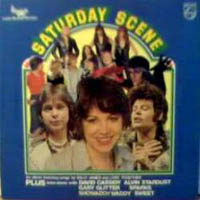 Cover of LP
This record contains many interviews by Sally James from the London based TV show Saturday Scene. The section on David Cassidy includes 3 different interviews. The first was recorded within minutes of David arriving in the UK for his 1974 tour. The second was recorded a few days later when David popped into the Saturday Scene studio. The last section is from David's last press conference before he left the UK at the end of his 1974 tour in the UK.
Side One
Sally James sings "Isn't it Good"
David Cassidy Interview
Showaddywaddy Interview
Alvin Stardust Interview
Love Together sing 'Round Ev'ry Corner"
Side Two
Love Together sing "Blackjack"
Sparks Interviw
Sweet Interview
Gary Glitter Interview
Sally James sings 'Wake Me When It's Over"
Showaddywaddy were the backing group for David during his 1974 UK tour. They talk briefly about this in their interview.
The LP comes with a large poster on which you can see Sally James and all the stars she interviewed.
Thank you to Wendy for the audio recording.