Unreleased Albums
Released: 1982 on SG Records Catalog number: 007-008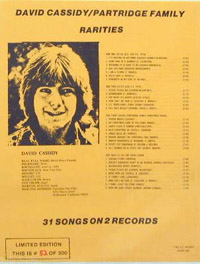 Two-record, supposedly 31-song, bootleg set, sold by a store called Goin' Back Enterprises in Hawaii. Originally, the set was advertised as having unreleased tracks, interviews and other rarities. Basically, it was a rip off. More details here.
The Partridge Family VIII 1973-74 Season
Catalog no.: Screen Gems PF-8
One-sided, in-house record put out by Screen Gems during the Partridge Family run. The record - one of at least nine that seem to have been pressed - appears to be a test-pressing of sorts of the songs used on the show during a particular season. This record contains "Cryin' In The Rain," "When Love's Talked About," and "Working On A Groovy Thing." All three of those songs were done only on the show and never released commercially.
The Partridge Family IX 1973-74 Season
Catalog no.: Screen Gems PF-9
Same as the above record, but includes more non-LP songs such as "I'm Into Something Good" and "I Wanna Be With You." Also contains a song called "I Was Running The Opposite Way" which never made it on to the show itself. At one time, Tiger Beat magazine printed the lyrics to the song and said it was going to be part of the Cherish album.