The David Cassidy Story
Synopsis
Andrew Kavovit delivers a stirring performance in this serious look at the actor's troubled life. The story pivots around the tempestuous relationship between teenage Cassidy and his hard-bitten father, actor Jack Cassidy (Malcolm McDowell). The film follows young Cassidy's meteoric rise to fame both as a TV star and musician in the early 70's, to his fall into poverty and obscurity as an out-of-work actor trying to rebuild a career. Upon meeting his father in a hotel room, Cassidy reveals his biggest fears: becoming a failure and becoming his dad, then a forgotten and mentally unstable shell of an actor. 'The David Cassidy Story' acts as an essay on the folly of stardom, and speaks of how we can all be found again, no matter how lost we become.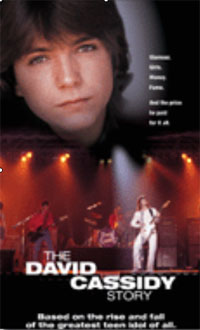 Cast
Andrew Kavovit - David Cassidy
Malcolm McDowell - Jack Cassidy
Dey Young - Shirley Jones
Roma Maffia - Ruth Aarons
Chandra West - Sue Shifrin
Matthew John Armstrong - Nick Hiller
Katie Wright - Susan Dey
Paul Ben-Victor - Wes Farrell
Sibel Ergener - Kay Lenz
Brynn Thayer - Evelyn Ward
Steven Anderson - Partridge Family Producer
Sam Shamshak - Director
Meredyth Hunt - Melanie Green
Diane Farr - Lisa Erickson
Brady Kimball - Danny Bonaduce
Other info
Directed by Jack Bender.
Written by Duane Poole.
This television movie was released in January 2000, on the NBC network.
This movie was rated M in Australia for drug content and brief sexuality.