C'mon Get Happy: Fear and Loathing on the Partridge Family Bus
By David Cassidy and Chip Deffaa.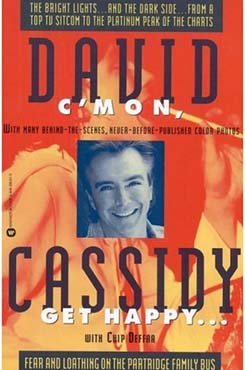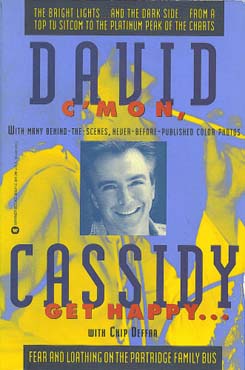 Published by Warner Books. July 1, 1994
Paperback 242 pages
ISBN-10: 0446395315, ISBN-13: 978-0446395311
As it says on the back cover:
He was the world's most wanted man. But he couldn't always get what he wanted.
At his peak, he was the highest paid solo performer in the world - bigger than Elvis, Paul McCartney and Elton John. He was the star of one of the most successful shows in television history, took everything he recorded to the top of the charts, and was overwhelmed by money, fame - and especially women - while still in his early twenties. Now, fresh from a new tidal wave of tours and recordings , David Cassidy tells his own story, an irreverent, unflinchingly honest saga of his experience with:
. The Partridge Family, the seventies megahit TV sitcom that paired him with his real-life step-mom, Shirley Jones, and that launched Farrah Fawcett and Jaclyn Smith.
. The endless cavalcade of groupies that invaded his bed, and his passionate, often stormy relationships with fellow stars Susan Dey and Meredith Baxter
. Revealing encounters with superstars John Lennon, Paul McCartney, Elvis, the Beach Boys and others.
. The singing career that sold over 20 million albums - and brought him a total of only $15,000 in merchandising royalties.
. The exhilaration of the spotlight, and the nights of desolation after the fans went home.