News Articles - David's Australian Tour 2002
Lip Service column - The Herald Sun
Rachelle Unreich
Lip Service, The Herald Sun, Melbourne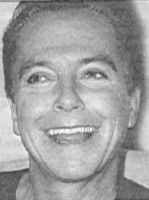 I went to a press conference for David Cassidy this week, where he flogged his concert tour. I didn't care about any of that. All I wanted to do was see my one-time teen idol - the man I was convinced I was going to marry when I was nine.
Later others, such as Willie Aames from Eight is Enough and Scott Baio from Happy Days, replaced him, but when I was growing up, David Cassidy was my main man.
I have to admit, meeting your childhood crush is a bit disappointing when it happens three decades after the fact.
I'm sure it's been downhill since 21 for me too, but couldn't David have stayed 20-something forever? I don't want to see Greg Brady with a receding hairline or Leif Garrett with a pot belly, and I suer as hell wished David still had his long blow-dried hair.
He looked good, but the guy's 52, so it's not like it's the same as when Keith Partridge looked at me through the tV airwaves and sang I Think I Love You while sending me psychic messages of adoration.
David may have aged, but hasn't lost his effect on women: there were several at this press conference who looked suspiciously like they'd had their hair done at the salon and were wearing their best frocks.
I think that's probably the best thing about meeting an ageing idol: I wouldn't have had a chance with David when he was selling millions of records, but I'm sure my stakes were better when matched against a dozen female journalists.
David kept talking about how "remarkably warm, open and wonderful" Australians are, which I took to be a secret code for "meet me in my hotel room in 30 minutes".
I didn't go, because there was no telling how this liaison would end. If David had tried to smooch me, I might have burst into a karoake version of I Woke Up in Love This Morning, and I didn't want to startle the poor guy.
Somewhere in the back of my cupboard, there's a 1972 issue of Rolling Stone mag, with an Annie Leibovitz portrait of a young Cassidy - naked.
I'm going to keep it tucked away for now, stashed with the old posters of the Bay City Rollers and the Sally Boyden records. One day, maybe I'll get to meet one of the Starsky and Hutch guys, or The Fonz.
For now, meeting one former teen idol is as much as I can handle.
Rachelle Unreich is editor-in-chief of theLounge.com.au and Melbourne editor of InStyle magazine.