David Cassidy on the Web
October Show Celebrity List - Hollywood Collectors Show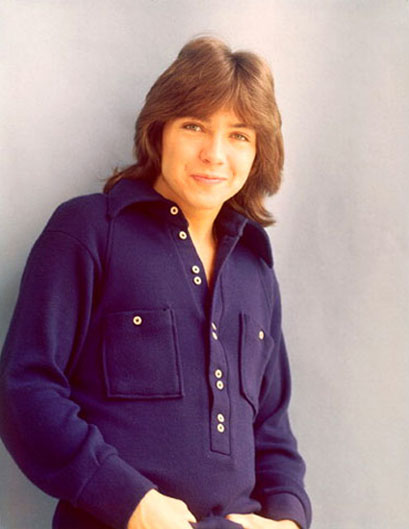 October 6, 2009
1st ever appearance Sun Only 10am - 1pm: David Cassidy
David Cassidy is an American actor, singer, songwriter and guitarist. He is best known for his role as Shirley Jones's eldest son, Keith Partridge, in the 1970s musical/sitcom The Partridge Family from 1970 to 1974. He was one of pop culture's most celebrated teen idols, enjoying a successful pop career in the 1970s, and still performs today.
After signing with Universal Studios in 1969, Cassidy featured in episodes of the TV series Ironside (25 Dec 1969), Marcus Welby, M.D. (13 Jan 1970), Adam-12 (14 Feb 1970) and Bonanza (15 Feb 1970). In 1970, he took the part of Keith Partridge, son of Shirley Partridge, who was played by Cassidy's real stepmother and series' lead, Shirley Jones. According to an episode profiling her on A&E Biography, Shirley Jones: Hollywood's Musical Mom (2000), Cassidy said that he wanted to hate his stepmother, but after his mother's real-life divorce, she immediately stepped in and he began to love her.
The Partridge Family series creator Bernard Slade and producers Paul Junger Witt and Robert "Bob" Claver did not care whether Cassidy could sing, knowing only that his androgynous good looks would guarantee success. But shortly after production began, Cassidy convinced music producer Wes Farrell that he was good enough and he was promoted to lead singer for show's recordings. Once I Think I Love You became a hit, Cassidy began work on solo albums as well. Within the first year he had produced his own single, "Cherish" (from the album of the same title), which reached #9 in the US, and began tours that featured Partridge tunes and his own hits. He became a teen idol.
On and off the show, Cassidy had a strong bond with his stepmother. He and co-star Danny Bonaduce did not get along with Jeremy Gelbwaks, (who played their brother, Chris) during its first season. In the second season, Gelbwaks was replaced by Brian Forster, who stayed until the series' end.
Ten albums by The Partridge Family and five solo albums were produced during the show. David also became an instant drawcard with spectacular sellout concerts successes in major arenas around the world. These concerts produced mass hysteria resulting in the media coining the term Cassidymania. By way of example, he played to two sellout crowds of 56,000 each at the Houston Astrodome in Texas over one weekend in 1972 . His concert in New York's Madison Square Gardens sold out in one day and resulted in riots after the show. His concert tours of the UK sold out and included six sellout concerts at Wembley over one weekend in 1973. In Australia in 1974, the mass hysteria was such that there were calls to have him deported from the country, especially after the madness at his 33,000 audience concert at Melbourne Cricket Ground .
A turning point in his live rock concerts (while still filming The Partridge Family) was a gate stampede which killed a teenage girl. At a show in London's White City Stadium on May 26, 1974, 650 were injured in a crush at the front of the stage. Thirty were taken to hospital, and one, 14-year-old Bernadette Whelan, died on May 30 from injuries. The show was the penultimate date on a world tour. A deeply affected Cassidy faced the press, trying to make sense of what had happened. Out of respect for the family and to avoid turning the girl's funeral into a media circus, Cassidy did not attend the service. He did, however, speak to Bernadatte's parents and sent flowers. Cassidy stated at the time that this would haunt him until the day he died.
Of approximately $500 million that The Partridge Family and Cassidy merchandising made internationally, he was allegedly paid only $15,000. Cassidy's autobiography C'mon Get Happy: Fear And Loathing On The Partridge Family Bus (1994) provides an account of most aspects of his fame, including contracts, money and his fanatical worldwide fan following.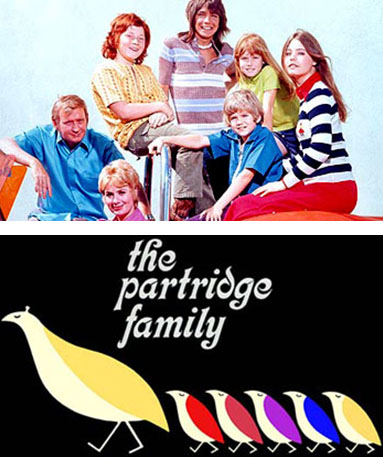 By this point, Cassidy had decided to quit both touring and acting in The Partridge Family, concentrating instead on recording and song-writing. International success continued, mostly in Great Britain and Germany, when he released three well-received solo albums on RCA between 1975 and 1977. Cassidy became first to have a hit with I Write The Songs, a Top 20 record in Great Britain before the song became Barry Manilow's signature tune. Cassidy's recording was produced by the song's author-composer, Bruce Johnston of The Beach Boys.
In 1978, Cassidy starred in an episode of Police Story titled A Chance To Live, for which he received an Emmy nomination. NBC created a show based on it called David Cassidy: Man Under Cover but it was canceled after one season. However the format was used in a well-received Fox TV series 21 Jump Street (1987-1991), with Johnny Depp in the role Cassidy vacated.
In 1985, music success continued with the Arista release of the single The Last Kiss (#6 in the UK), with backing vocals by George Michael, which was included on the album Romance. These went gold in Europe and Australia and Cassidy supported them with a sellout tour of the UK which resulted in the Greatest Hits Live compilation of 1986. George Michael cited Cassidy as a major career influence and interviewed Cassidy for David Litchfield's prestigious Ritz Newspaper. Cassidy returned to the American Top 40 with his 1990 Lyin' To Myself, released on Enigma. In 1998, he had a AC hit with No Bridge I Wouldn't Cross from his album Old Trick, New Dog. His 2001 CD Then and Now went platinum internationally and returned Cassidy to the Top 5 of the UK album charts for the first time since 1974.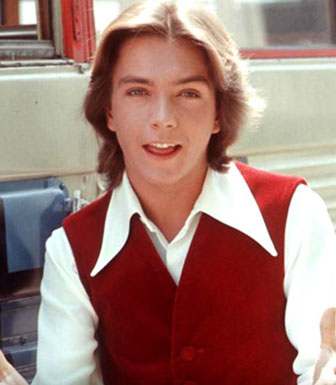 Cassidy has performed in musical theatre. In 1981, he toured in a revival of a pre-Broadway production of Little Johnny Jones, a show originally produced in 1904 with music, lyrics, and book by George M. Cohan. (The show is excerpted in the biographic film Yankee Doodle Dandy (1942), when James Cagney sings Give My Regards to Broadway and The Yankee Doodle Boy.) However, Cassidy received negative reviews and was replaced by another former teen idol, Donny Osmond, by the time the show reached Broadway. Cassidy was a replacement for the lead in the original 1982 Broadway production of Joseph and the Amazing Technicolor Dreamcoat. He appeared in London's West End production of Time and returned to Broadway in Blood Brothers (1993) alongside Petula Clark and his own half-brother, Shaun Cassidy. In concert performances in 1990, Cassidy hired his recalcitrant TV brother Danny Bonaduce as his warm-up act. In 1996, he replaced Michael Crawford in the Las Vegas show EFX, re-writing it into one of the Strip's favorite shows - although Cassidy was forced to resign after he injured his foot during a performance. He also created The Rat Pack is Back, in which he made guest appearances as Bobby Darin, and which ran successfully. In 2000, he wrote and appeared in the Las Vegas show At the Copa, with Sheena Easton as both the young and old versions of the lead character, Johnny Flamingo. In 2005 Cassidy played the manager of Aaron Carter's character in the film Popstar. In 2006, he made a guest appearance for BBC Children in Need performing live, then assisting Terry Wogan collecting donations from the studio audience.
He currently co-stars alongside his brother Patrick in a 2009 ABC Family comedy series entitled Ruby and the Rockits. A show created by his brother,Shaun.
David Cassidy Home / Autograph Service October 09 / David Cassidy
Pre-order David Cassidy autographed photos here if you
CANNOT ATTEND
on October 11th Show.
We will get them autographed for you
and ship to you after the show date. br> David Cassidy will only be in attendance for 3 hours on Sunday October 11th. br> We can only get so many of them signed for guests br> that cannot attend the show. Please order soon to get yours!
While we are pleased to offer autographed photos of your favorite stars, we cannot guarantee that they can be personalized.
Personalization is an optional item the celebrity does at no additional charge when they're available. Please keep this in mind when placing your orders.