Memorabilia
The following is a list of Memorabilia collected by fans from around the world since the early 1970's.
There were a number of fan clubs in the 1970's and these gave out membership cards, pictures and newsletters.
There were a number of Partridge Family Fan clubs run by Teen magazines in the 1970's. See some adverts here.

There was a range of mugs, shirts, hats, totebags and even teddy bears available from David's official website
Fans have collected these since the early 1970's. David now only personalizes each item he signs. David said "I was offended by the number of items that were being sold on eBay without my authorization and for personal gain, not for charity."
We have pictures of 1972, 1973, 1974, 1985, 2001, 2002 and 2008 programs.
Plectrum (Guitar picks)
'David Cassidy' plectrum's are given away during concerts.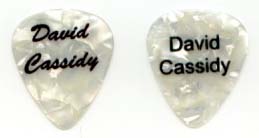 A number of these were available for purchase outside concert venues in the 1970's.
These were available outside concert venues in the UK and the US in the 1970's.
Official merchandising mugs are still available from David's website.
These were available in Magazines or through magazine orders.
1973, 2004, 2005, 2006 & 2008. Do you know of others?
Stickers in the form of stationery, tour promotion and stickers to plaster your school books were plentiful in the 1970's.
A number of badges have been produced to sell at concerts, advertise shows and promote CD's.
Fans began collecting The Partridge Family C'mon Get Happy shirts from the 1970's and continue to collect Tour Tshirts. Some were even given away as advertising.
The notebook is 11 1/2" tall and 10" across. It has 3 rings inside to hold paper. Made by Westab. No 25-2034. It has pictures of David on each side.
David Cassidy plastic picture heart pendents were sold outside concerts in the 1970s. In Australia you could order a heavy nickel plated alloy, featuring a lifelike sculpture of David and with his message "Always remember I love you". Or you could order a 2 dollar Necklace or Charm Bracelet.
Heart shaped bracelet.
Two different types were produced. One in 1973 by Anabas and the other from the David Cassidy fanclub.
Fridge Magnets continue to be marketed today.
A number of sew-on bagdes were available in the 1970's.
This was available for $1 from 16 Magazine. See the advert to find out what you missed!
Pocket Mirror
This 2.25 inch pocket mirror came with a drawstring pouch.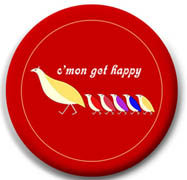 Two different clock faces were released.
Matchboxes
Two matchbox pictures were released in the Netherlands in the 1970's. One features David Cassidy and the other the Partridge Family.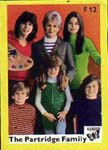 Paint and Color Album
This activitiy book had posters to color, things to make, full color standups of David and a pin-up portrait.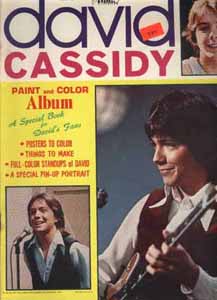 Front cover of album.
The Partidge Family lunchbox has a picture of the bus on one side and the family members on the other side. Individual pictures of the family members are around the rim of the lunchbox. The Partridge Family lunchbox also came with a plastic thermos.
The Then And Now lunchbox was released to promote David's Then And Now CD.
A large plastic bus made by Remco in 1973 is now quite rare. There are die cast models of the bus now available.
Musical Christmas ornament from 2003
There are two types of toy guitars released. A yellow one and a red one. Both have The Partridge Family logo, a picture of David and a message "Yours David". The red guitar also has "I think I love you" printed on it.
David has sold a few guitars with all or part of the proceeds going to charity. These are highly prized by collectors.
American Toy & Furniture Co. produced a red record cabinet. This came with stickers of the Partridge Family and David Cassidy.
17 books in total written by various authors using the characters from the Partridge Family.
Charlton Comics released 21 different comics.
Charlton Comics released 14 comics.
A red pencil case was available in the UK in 1973. It featured a picture of David Cassidy.
David donated a costume to kidscharities for an auction. One lucky fan also has one 1974 costume in his collection. Since David's Memorabilia Auction in 2006 many more fans now have some of his costumes.
A couple of different designs were available in the 1970's.
1n 1972 the backs of the Fruit Juice can labels were mini posters of The Partridge Family. You could also send away for a David Cassidy Beach Towel.
These were available from TV Week magazine in Melbourne Australia..
This radio came with a chain so you could wear it around your neck.
English and Greek versions are known.
The Partridge Family Trading Cards
Topps Trading Cards were manufactured in the US, Australia and Canada. A number of different sets were produced.
Argentinian Trading Cards: Argentina produced two series of The Partridge Family Trading cards.
The package included 3 discs telling the story and a 16 page booklet.
A coloring book with 95 pictures to color.
There are a number of David Cassidy and Partridge Family Cigar Bands from the Netherlands.
Cardboard glossy counter top stand with cardboard easel back. A number of advertising stands have been collected by fans.
There were a few sets available in the 1970's:, David Cassidy, The Partridge Family and Susan Dey.
Juke Box Strips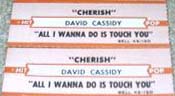 Three different series were produced by Panini of Italy.
This was issued 2005.
David Cassidy was on one of the cards. You could also send away for a poster.
Available in the UK in 1972.
A card, available today, commemorates the year 1973.
This was sold with a letter of authenticity.
Sold by Remco. The doll came with a poster of Laurie and Keith Partridge.
Made in 2009 by Farrow.
The belt has a picture of David on the front. Two different bags were available in the 1970's
This is a black vinyl bag made in 1972 and licenced to Columbia Pictures. On the bag was written "I Think I Love You! David".
These are officially licensed products. At the moment they consist of Tshirts and a Mouse Pad
Two book covers were available. One in 1971 and the other in 1972.
A set containing a badge pin and six images.
The Official David Cassidy Screensaver was produced by McCartney Multimedia.
David Cassidy Golf Tournament - Divot Repair/Ball Marker
The David Cassidy Golf Tournament was held on Sunday June 11, 2000. This Divot Repair/Ball Marker was sold at the venue. Proceeds benefited Kidscharities.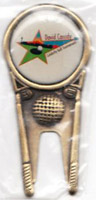 There was a range of children's clothing produced by Kate Greenaway in the 1970's. The clothing had tags with either pictures of David Cassidy or The Partridge Family.
The Masquerade costume was made by Kusan. It contains a ventilated mask, blue pants and a white top with a characture of David Cassidy.
Cereal Boxes
General Foods featured The Partridge Family kids' faces on their cereal boxes.
A plastic small spinning top from Argentina.
Partridge Family 2200 AD cartoon pinball toy from Argentina.
Non commercial memorabilia
Some fans are now making their own items for their own use or for their friends. Scarves, banners and Tshirts are not uncommon. Other items are: Jewellery and Games.
If you have any details and/or pictures of other items of memorabilia I would love to hear from you.
Thank you to Terena, Suey, Jim and Jane for pictures and information.