Some Interesting Facts
Full Name
David Bruce Cassidy
Birthdate
Wednesday, April 12, 1950
Birthplace
New York City, N.Y
Height
5 ft. 8 in.
Eyes
Hazel
Hair
Brown
Operations
David had his gall bladder removed in July 1971 at the Mt. Sinai Hospital in Hollywood.
An operation on his left optical nerve which was wrapped around a blood vessel sometimes results in a "lazy" eye when he's over-tired.
Allergies
David Cassidy is allergic to garlic.
Fan Club
At his peak, David Cassidy was the world's highest paid live entertainer, and his official fan club was the largest in pop history -- exceeding Elvis Presley and The Beatles.
Musical Talents
David plays the following instruments:
Guitar
Piano
Drums
Clarinet (He started learning when he was 8 years old.)
David's First Band
David, Sam and Jim formed The Pains Of Glass when David was 14 yrs old. They played a few gigs at parties.
Merchandising
Out of the approximate $500 million that "The Partridge Family" and David Cassidy merchandising earned in the 1970's, David was allegedly only paid around $15,000.
David has been married three times:
Sue Shifrin (3 January1991 - present (separated)) 1 child
Meryl-Ann Tanz (15 December 1984 - 22 May 1988) (divorced)
Kay Lenz (3 April 1977 - 1983) (divorced)
The best man at David and Sue's wedding was their son, Beau Devin Cassidy (b. 8 February 1991). They were married again for Hello Magazine photo shoot on 30 March 1991.
Children
A son Beau Devon Cassidy (born Feb. 8, 1991) and a daughter Katherine Evelyn Cassidy (aka Katie born Nov. 25, 1986 from a previous relationship).
Pets
Micky the dog and Bailey the parrot.
Parents
Actress Evelyn Ward (born May 21) actor Jack Cassidy (born March 5, 1927 died Dec. 12, 1976)
Brothers
Three half brothers from his father's second marriage with actress Shirley Jones (born March 31, 1934): Shaun (born Sept. 27, 1958), Patrick (born Jan. 3, 1962) and Ryan (born Feb. 23, 1966)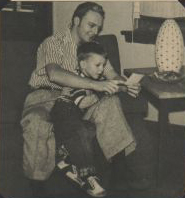 Father and Son.
The Early Years
David's first desire to become a performer was when he was only three years old when his mother actress Evelyn Ward took him to see his father, the famous Tony & Emmy award winning star Jack Cassidy perform on the Broadway stage. David's parents divorced when he was only four years old. He grew up in West Orange, New Jersey with his mom and grandparents until the age of 10 when his mother decided to move them to Hollywood.
David's High School
Rexford High School, Beverly Hills, CA (1968)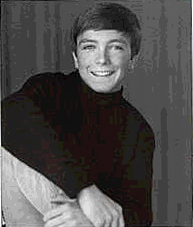 David's first professional head shot in 1967.
Broadway Debut
David made his Broadway debut in 1969 in the musical "The Fig Leaves Are Falling" at the same time his father and stepmother, Jack Cassidy and Shirley Jones, opened on Broadway in their only play together, "Maggie Flynn". Both shows were notorious flops, the former closing in less than two weeks.
After Graduation
David graduated from Rexford, a private high school in Beverly Hills and even before graduating had performed in a couple of plays and one TV show. For a year after his graduation David was accepted into the prestigious Los Angeles Theater Company (L.A.T.C.) David Cassidy then moved to New York city and studied with David Craig and Stanford Meisner. His first Broadway musical was titled The Fig Leaves Are Falling, with such well known performers as Dorothy Loudon and Barry Nelson. David returned to Los Angeles and was signed for many dramatic guest starring roles in such T.V. shows as Bonanza, Ironside, Medical Center, The Mod Squad, and more. David then landed the role of Keith Partridge in the ever-popular, now classic T.V. show, The Partridge Family. The Partridge Family show catapulted David Cassidy to stardom and at the young age of 19, he was an international phenomenon with the largest fan club in history.
Most Promising Actor
In 1971 David won a Gold Medal Award for Most Promising Actor.
Best Singer Award
Readers of the German teen magazine "Bravo" voted David the best singer in 1973, 1974, 1975. David was presented with the "Goldener Otto" which looks like a little Winnetou. In 1976 David was awarded the Bronce (Bronze) Otto. Pictures here.
Fashion Award
In May 1983 the Fashion Foundation of America made their annual announcement of 1982's Best Dressed Males in 10 Catagories. David Cassidy was announced as Best Dressed in the Stage Catagory. At the time David was starring on Broadway in "Joseph And The Amazing Technicolor Dreamcoat".
Best Television Theme
David wrote the bluesy theme song to the John Larroquette Show and in 1994 won The Television Music Archives Award for Best Television Theme.
Best Performer in Vegas
In August of 1996, David took over the starring role in MGM's Las Vegas production EFX. David replaced an ailing Michael Crawford who later bowed out of the show completely. David brought new life into the struggling production by changing much of the script and adding new, more contemporary songs. The show then became a tremendous success and was voted Best Show In Vegas, with David Cassidy winning as Best Performer In Vegas.
Teen Idol
David was ranked #1 in TV Guide's list of "TV's 25 Greatest Teen Idols" (23 January 2005 issue).
In an attempt to break from his Keith Partridge persona, he posed nude for Annie Leibovitz for a photo in the 11 May 1972 "Rolling Stone" magazine.
David Speeding
On the Mark and Brian show in 1990 a caller rang in to say he was at the same Traffic School for speeding as David. David was late to the Traffic School because he got caught speeding on the way to it.
Injuries
April 22, 1981 David fractured a toe on his left foot while performing in Little Johnny Jones.
Alias
Jackson Snipe was the name David used for his Phone Service in the 70's. Jackson Snipe was the name made up by Kevin, a friend of David's from Drama class at Rexford High School.
David was going to call his "The Higher They Climb - The harder They Fall" LP "The Rise And Fall Of Jackson Snipe". RCA were also releasing David Bowie's new LP called "The Rise and Fall Of Ziggy Stardust" so David decided to change the name of his LP.
David's hero
"As a 6 year old kid I had a hero: Mickey Mantle". (Russell Harty show 1976.)
David attended the 1986 Brit Awards in London.
David Cassidy and his wife, Sue Shifrin-Cassidy, were honored for their commitment to and support of Special Olympics Nevada on April 1, 2001.
David as guest radio host
David was guest host on The Paul Perry Morning Show, Oldies 104.3; April 18th through April 22nd, 2005 from 7am to 9am.
David Cassidy - Grand Marshall
December 13th, 2003
2003 Cingular Wireless Winterfest Boat Parade.
The Winterfest is a Florida not-for-profit organisation that produces annual events for family entertainment. It culminated in the boat parade in which David was Grand Marshall. The theme for the year was "Once Upon A Time".
On September 23, 2003 David was announced as the Grand Marshall and the press gathered for a photo opportunity. See separate page for pictures from this event.
April 17, 1999
The 49th Annual Henderson Heritage Days included a parade at noon of floats, bands and costumes. David Cassidy was Grand Marshall for the second time.
Editor's note: Date of the first time is unknown.
David on your Voicemail
David recorded a message for Virgin Mobile for your voicemail. The message is titled, "It's Not Keith".
NOTE: This is no longer able to be purchased from www.virginmobileusa.com
Listen to a sample below.
Arrested Development
Arrested Development is an American television sitcom. In "Not Without My Daughter" an episode of Arrested Development Oscar Bluth wears a jacket that reads David Cassidy Live! presumably from a concert.
In the previous episode "Whistler's Mother" Oscar told Michael that David Cassidy was supposed to sing his song "All You Need Is Smiles" on The Mike Douglas Show but he was too embarrassed to do it in front of John and Yoko.
David was best man at Ryan and Bonnie's wedding on July 26, 2008.
David was charged with DUI
David was arrested and charged with DUI on November 3, 2010.
Silver Eagle Patriot Award
David was presented with this award while attending the Celebrity Sock Hop, a fundraising event for the Foundation of Brain Injured Veterans on April 16, 2011.
On June 9, 2012 David performed at the 5th Annual New Jersey Hall Of Fame Induction Ceremony at the New Jersey Performing Arts Center in Newark, New Jersey.
David attended the 42nd annual IEBA Conference Award Dinner on Tuesday Oct. 9, 2012 in Nashville. David also attended the Paradise Artists Agency Classic Rock and Pop party earlier in the afternoon. The International Entertainment Buyers Association (IEBA) is a non-profit trade organization for live entertainment industry professionals and showcases the best and brightest talent in all genres of music and all fields of entertainment.
David will be presented with a Lifetime Achievement Award at the Film, Recording & Entertainment Council's Star Gala Ceremony on November 3, 2012 at Magic City Casino. Pictures