Little Johnny Jones
This show toured USA May 1, 1981 to October 24, 1981.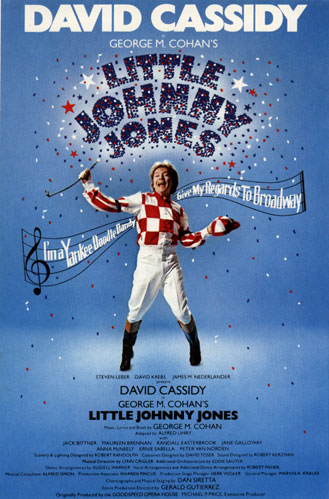 Little Johnny Jones was written my George M. Cohan. The inspiration for the play came when he read newspaper stories about the adventures of Tod Sloan, a famous American jockey who had gone to London in 1903 to ride in the English Derby. Cohan developed an original plot that was ideal for his won unique personality and talents.
Little Johnny Jones was first tried out at the Parsons Theatre in Hartford on October 10, 1904. It was a success and opened at New York's Liberty Theater on November 7, and after 52 performances took the road with great sucess. Changes were made on tour and the show came back to Broadway twice, with over 200 perfomances.
George M. Cohan was such a successful talent that in1942 Warner Brothers released a big, lavish MGM-type musical titled "Yankee Doodle Dandy". It starred James Cagney as Cohan and it was a big success. More recently, Joel Grey played Cohan on stage in "George M". It also did very well. Both Cagney and Cohan were professional tap dancers and the critics often compaired David's performances to them. David actually did very well, having taken many tap dancing classes before the show's opening. However, the critics often brought up his teen-idol past and therefore said he was not as talented as Cohen, Cagney or Grey. Despite the critics, Little Johnny Jones sold out performances in Los Angeles, having broken the house record! However, David left the show after performing in Dallas, TX.