The Partridge Family - Sound Magazine
Released: July, 1971. Bell #6064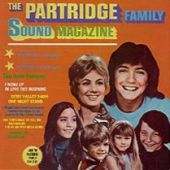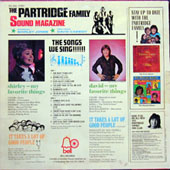 Originally titled "The New Partridge Family Album," but was renamed just prior to release.
Back of the CD.
Peru release: BELL 2308 005. Label was in Spanish.
Greek Release: BELL 2308 034. The cover is very similar to the LP cover above. The picture is the same but the cover says "This Issue Features: I Woke Up In Love This Morning, Echo Valley 2-6809, One Night Stand. This LP had a completely different track listing.
SIDE 1: I Think I Love You, I'll Meet You Half Way, Doesn't Somebody Want To Be Wanted, One Night Stand, Rainmaker, Echo Valley
SIDE 2: I Woke Up In Love This Morning, It's One Of Those Nights, Summer Days, I Would Have Loved You Anyway, I'm On My Way Back Home, Twenty-Four Hours A Day.