At The Copa
Rio Hotel in Las Vegas, Nevada January 18, 2000 to January 21, 2001.
David starred as Johnny Flamingo.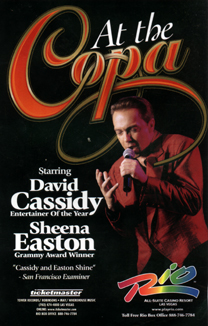 At The Copa flyer.
After appearing in EFX in Las Vegas, David decided to create a show of his own. He hired successful singer Sheena Easton to co-star with him at the Rio Hotel. David also took a few talented performers from EFX.
David announces Sheena for "At The Copa" to the Press.
The show was set in the 40's and then moved on to the 70's when David would appear with guitar in hand and sing some Partridge Family numbers.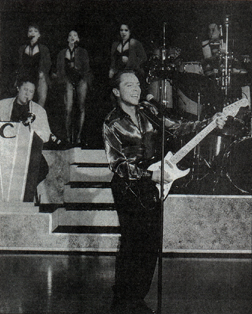 Photo above from San Diego Union Tribune Newspaper.
Of course, old PF fans loved it, especially when David went out into the audience to shake hands with fans while singing "I Think I Love You". David performed some really incredible songs such as Johnny Ray's "Cry" and Otis Redding's "Try A Little Tenderness," which always brought the house down. Many non-David Cassidy fans mentioned what a fabulous singer David was after hearing him do these numbers.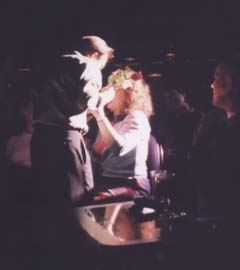 A fan gives David a rose. (taken by Cat Ortiz-White)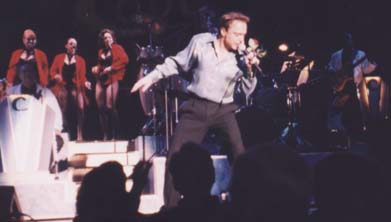 David sings "I Think I Love You" with the rose. (taken by Cat Ortiz-White)
There were some buttons and t-shirts available for fans to purchase.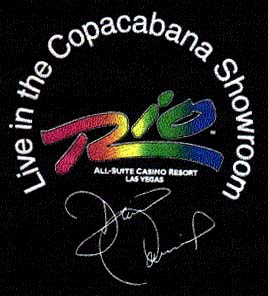 At The Copa T-shirt.
December 28th, 2001. Just before the show started, David came out into the audience and announced that a 40 pound radiator had dropped on his foot when he ran into it in the bathroom during the night. He hadn't turned on the light! He said there was a lot of blood and that his doctor said he wouldn't be performing that night, but David told him he would! David said he was feeling pretty good after taking the pain killers! Fans reported that David had a lot of energy, hopping around on the stage all night. Other members of the cast joked about his limping and called him pegleg. David didn't come through the audience during "I Think I Love You", instead he lay down on the stage, sung to the girls in the front row, and took their hands in his!
The show evolved over time. Some really funny things were added, some slow spots taken out. However, in the end it was not a huge success. The Rio did not pay for as many advertisements or promotions as the MGM did for EFX. David closed the show and went on tour. Due to his contract with The Rio, his first concert dates were all at Harrah's Casinos. Since that time, David has toured in many places around the world.