Jesus Christ Superstar
Starlight Theatre in Kansas City, Missiouri August 6 to August 12, 1984.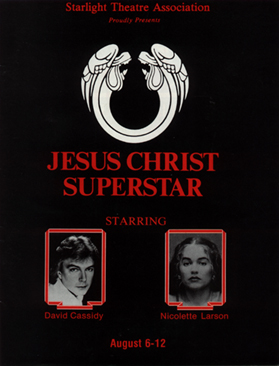 Jesus Christ Superstar Program.
This Rock Opera is based on the last week and Crucifixion of Christ. It was written by Tim Rice and Andrew Lloyd Webber. When the play was first done in 1970, it was considered to be very controverial and was attacked by many conservative churches. However, it is now considered to be a Classic, and many churches have now embraced it. Some churches have even had chorus members in local productions as was the case in this Kansas City production.
David Cassidy was first offered the role of "Jesus Christ" for the movie "Jesus Christ Superstar" but turned it down. After being successful on Broadway in another Rice/Webber production "Joseph and The Amazing Technicolor Dreamcoat", David accepted the role in this local Kansas City Production, which included many of the original cast members from Broadway. Country-Rock Star Nicollette Larson best known for her smash 1979 hit "Lotta Love" played the role of "Mary Magdalene."
The Mayor of Kansas City gave David the keys to the city at the Opening Night Party at the Starlight Theatre