Articles and Appearances of David Cassidy whilst in "At The Copa"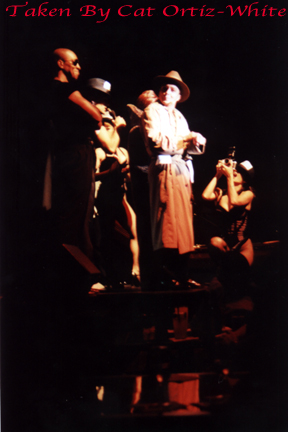 March 13, 2000 - Entertainment Tonight TV had an entire segment on "At The Copa." both David & Sheena were interviewed intertwined with video clips of the show.
April 12, 2000 - GMTV in Britain did a remote live appearance from Vegas on his birthday.
April 16, 2000 - MSNBC "Headliners & Legends Special" on David.
May 15, 2000 - KABC TV - Eyewitness News interviewed David and his brother Shaun.
May 15, 2000 - KLOS "The Mark & Brian Show", both David and Sheena appeared live.
May 30, 2000 - local New York radio station Jammin' 105 on actor Jay Thomas' show. MSNBC Cable Homepage show. These were done to promote the David Cassidy Celebrity Golf Tournament, 70's Ball and Kids Charities Organization, and Saratoga, NY "Day At The Races".
May 31, 2000 - Fox news cable show "Fox and Friends". WNEW-FM radio show The Sports Guys, and ABC-TV's "The View". These shows were also done to promote the above charity events.
In May, the Screen Gems non-cable network began airing "The Partridge Family" and "the Monkees" each day due to viewer voting.
June 5, 2000 - David and wife Sue were given an "America's Favourite" award from the Nevada child seekers at the hard rock hotel in Las Vegas for their work on behalf of children's charities.
Every Wednesday from May to September, 2000 at 9:00 (et & pt) VH1 in the USA presented a special summer schedule of movies with rock 'n' roll themes. On June 7th they showed Danny's movie "Come on, get happy - The Partridge Family Story," on August 30th they showed David's "The David Cassidy Story."
June 6, 2000 - Phoenix morning show, "Good Morning America".
June 9, 2000 - Planet Hollywood Restaurant in Vegas turned into a miniature golf course "Putt around the planet" fund-raiser. David made an appearance there.
June 9 -11, 2000 - David and Sue took part in the keynote luncheon at the EAT'M convention.
June 11, 2000 - the third annual David Cassidy celebrity golf Tournament was held. Fans were not allowed to follow the celebrities. They were roped off in the hot desert sun to watch only one hole. Some celebrities went to this hole. David did not. He left early to rest for the evenings events.
June 11, 2000 - totally groovy 70's Polyester Ball and Auction were held in the Rio Suites Hotel. The rooms were decorated in 70's fashion. Many items were up for auction. Shirley Jones and Suzanne Crough from the original PF cast showed up. David came to the podium to give out awards from the Golf Tournament during the auction part. He then left to do the Copa show. His wife Sue was dressed in one of his spandex concert outfits from the 70's. His son Beau and daughter Katie were also in attendance. David later returned but did not "mingle with the fans" as they'd been promised in an email from someone who was in charge of his web site at the time. He also did not sing. He just came back to wish everyone a good time and had security escort him away.
June, 2000 - on VH1's listing of the "Top 100 R&R moments on TV", the premiere of the Partridge Family in Sept. 1972 was ranked as number 38.
June 26, 2000 - a clip of David singing "How Can I Be Sure" was shown on "Toppop Non Stop" on Dutch TV channel Nederland 1.
June 27, 2000 - Los Angeles TV's Good Morning L.A.
August 5, 2000 - David hosted the "I Love The 1972" episode of the BBC program "I Love The 70's."
August 10, 2000 - David was a presenter on the "Family Television Awards" on CBS TV. It was taped live at the Beverly Hilton Hotel on August. 3rd.
August 12, 2000 - the "Saratoga Day At The Races" to benefit kidscharies.org and several other charities was held at Saratoga Springs Racetrack, NY. David made himself very accessible to those who attended. Fans who paid the $150 for the luncheon as well as fans who just stayed at the racetrack clubhouse all got to see and speak with David as he mingled in the two areas on and off during the day.
September 23, 2000 - BBC in England aired a "This Is Your Life" TV special.
October 27 & 28, 2000 - David made an appearance at Pier 92 on 11th Ave. and 55th street on the Hudson river in New York City. A wax statue of David, that is! Guernsey auction house auctioned off the statue.
October 29, 2000 - Classic Gold Radio in England recorded live in Las Vegas. DJ was Paul Burnett.
October 29, 2000 - MGM Grand's studio 54 Beaux Arts Ball was held in celebration of Halloween and to benefit the local AIDS charity of Nevada. David was one of the celebrity judges.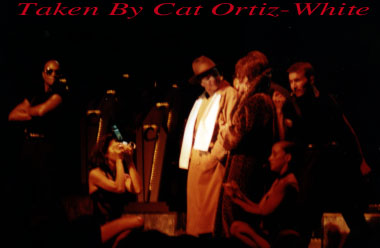 Compiled by Cat Ortiz-White. Very special thanks to the Just David fan club for providing much of the information.