Time
A Synopsis by Cat Ortiz-White.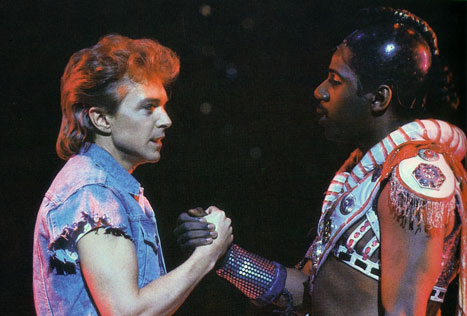 David Cassidy in Time.
Dave Clark was the lead singer and writer of the infamous 60's British Invastion band, "The Dave Clark 5". The band had such hits as "Here We Come Again" and "Ferry Cross The Mercy.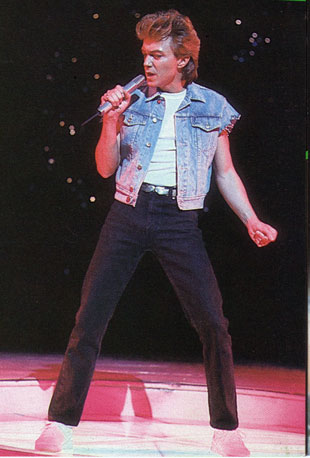 Forward to 1980, Dave started working on the book and music of this musical. The story is about a rock and roll singer, Chris Wilder aka "The Rock Star" who is whisked away to find himself defending The Planet Earth to a the Supreme Court of the Universe. The "HEAD" of the court is played by Laurence Oliver, who pre-taped his part and only his "Head" is shown. The court has found Human's to be a violent, self-distructive, and dangerous race. Issues such as racism, polution, war, etc. are addresses in this play. It is up to the famous singer to defend the planet and save humanity.
The part of "The Rock Star" was originally played by Cliff Richard. David later replaced him.
David Cassidy later said in his autobiography that he felt the script was weak although he knew it would be a good vehical for him professionally. Many of the fans also found some of the dialogue to be a bit lenghty at times. However, the special effects, re-built set and far-out, space age costumes were spectacular! Plus many of the songs were simply beautiful.
David sang his heart out in this play, which helped show off his vocal range and rich tone quality. You could also tell he was working out at the gym regularly to stay in top shape for this very physically demanding role. The fans swarmed to see David in the play and it was very successful. It is due to David's great success in this play that another well known producer, Willy Russell, later asked him to be in his play. Billy's play was "Blood Brothers." A show which David helped become huge success on Broadway, not only with the public but critics alike. So it turn, it helped David gain credibility as a serious stage actor.