At The Copa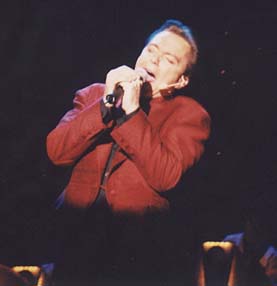 A little old man comes out and tells a few jokes and goes into telling the tale about the old Vegas Casino called "The Copa." We go to "The Copa" with the emcee (Stewart Daylinda), who's also attempting to be a comedian. Johnny Flamingo (played by David) is a bus boy working at The Copa. The regular singing star of the Copa, Frankie is murdered by his lover Cookie (Candace Davis-Martin). Cookie is a girl in the chorus who found out Frankie was fooling around with her sister. Johnny steps in for the star and is huge hit with the audience.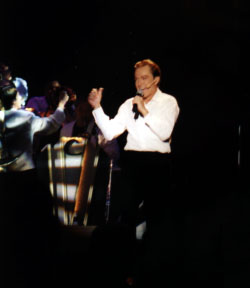 David singing My Kind of Town.
Johnny is in love with he lead female singer of the Casino, Ruby Bombay (Sheena Easton.) Ruby also loves him. However, Lefty (Rick pessagno) who is the owner of the Copa and also in a gang loves Ruby too.
Ruby rejects Lefty for Johnny. Lefty had covered up Cookies crime and bribes her to set-up Johnny to make it look like she and Johnny are having an affair by sitting on him in his dressing room when Ruby comes in to see him. Ruby falls for it.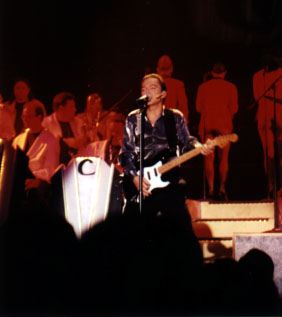 Johnny is banished from the club. He hits bottom as a bum but then picks himself up and becomes a successful rock star. Ruby also became a star. Johnny goes back to see Ruby and she had been told the truth of what happened by another co-worker at the Copa. Johnny brings out a ring to propose to Ruby. Lefty walks in on them and pulls out a gun to shoot Johnny. Ruby steps in front of him and is shot instead.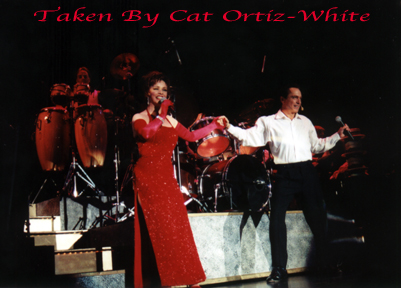 The finale.
The narrator takes us back to The Copa where after everyone else is dead, Beaumont sings "If They could See Me Now" backed by the dancers and orchestra. He's wonderful and is a hit! At the end, the narrator takes off his mask to reveal that it's David!