EFX Synopsis
Take a journey to those magical, fantastic places where imagination dwells. Open your mind to the magic that surrounds you. Cast aside your fears and prepare yourself for the unexpected.
Set in the lavish 1,700 seat EFX Theatre, EFX takes you on a 90 minute high-tech theatrical journey featuring more than 250 special effects and a cast of 70. Watch mountains move, feel the heat and flames of mammoth dragons, and enter a land of surreal fantasy - without ever leaving your seat.
EFX takes you to worlds beyond reality -- including the realms of legendary illusionist Harry Houdini, medieval sorcerer Merlin, master circus show man P.T. Barnum, and time-travelling author H. G. Wells.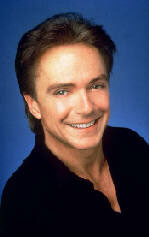 David Cassidy in EFX