Blood Brothers
Broadway at the Music Box Theatre, N.Y., November 1993 to June 1994. The show also toured USA and Canada in 1994/1995 and the UK in 1995/1996.
David co-starred as Mickey Johnston.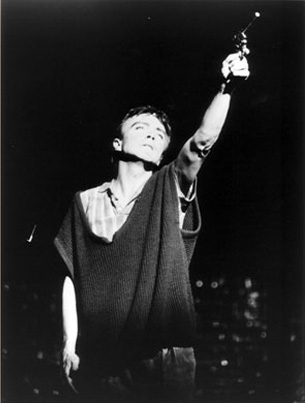 David Cassidy as Mickey in Blood Brothers.
BLOOD BROTHERS prmiered on London's West End in January 1983. Its origianl West End success was limited, but it went on to win every theatre prize awarded for Best Musical.
In 1988, producer-director Bill Kenwright opened a new West End production of BLOOD BROTHERS which instantly received three more Olivier Award nominations, and the production went on to be a huge box office and critical success.
After a seven week sold-out pre-Broadway engagement at the Royal Alexandra Theatre in Toronto, BLOOD BROTHERS opened Sunday, April 25, 1993 at Broadway's Music Box Theatre, where it was nominated for six Tony Awards including Best Musical.
David Cassidy in Blood Brothers
The Broadway production had a standing ovation every night of its run. However, it was not selling out until David Cassidy was brought in as the lead. David also brought in Shaun Cassidy, his real life step-brother, to co-star as his on-stage brother. Petula Clark also co-starred at their mother. The play was then sold out for over a year.
BLOOD BROTHERS then toured the USA. Shaun decided not to do the tour, being a successful writer and producer for television as he had several projects he was working on. However, David and Petula joined the tour which was so successful, it went on to Toronto and the UK.
BLOOD BROTHERS was a not only a huge success due to David but in turn, it was also a major break-through in David's career. David was finally able to show off his dramatic acting skills and recieved not only commercial success but he was praised by the critics as well.
Although David Cassidy is no longer in BLOOD BROTHERS, the play continues to tour many cities and some fans of the play even have a web site.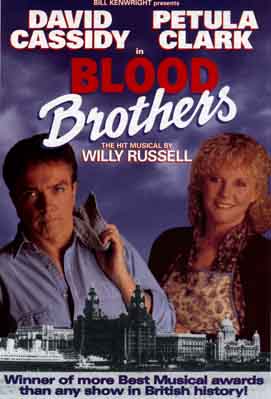 Blood Brothers flyer.
David discusses Blood Brothers
David was interviewed by Michael J Baker during the shows run.
Watch the interview