Almost A Virgin
A 1990, MGM/UA Picture. This film was released in the U.S.A. as "Instant Karma"
David Cassidy plays Reno, a TV show's temperamental, coke snorting star.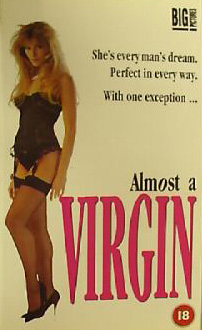 From all outward appearances, Zane Smith's life reads like the American Dream. He's a producer-writer of a hit TV show. He lives in the Hollywood hills, owns a basset hound named Wolfgang and a red Mercedes convertible. So what's the problem? His eccentric psychoanalyst says it's the dreaded four letter word. Love.
Craig Sheffer (Night Breed) stars in this romantic comedy that features the ultra-gorgeous Chelsea Noble as his Dream Girl and David Cassidy as the temperamental star of Zane's series, "Rock'n'Roll P.I." Contributing to the mayhem are Marty ("I'm Dickens, He's Fenster") Ingels as a TV big cheese and Orson Bean as Zane's wacky shrink.
Note: Marty Ingels is married to David's step mom, Shirley Jones.