Television Acting Roles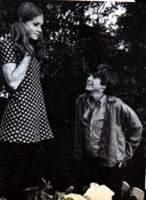 House on High Street
Episode unknown, 1959. NBC daytime TV serial.
The Survivors
Episode:Chapter 7. Aired: November 7, 1969 on ABC.
Playing: Danny Goodson. Episode #3.14: Stolen on Demand. Aired: December 25, 1969 on NBC.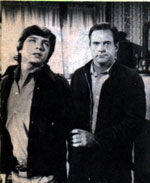 Playing: Larry Williams. Episode #5.17: Fatal Impostor. Aired: January 4, 1970 on ABC.
Playing: Michael Ambrose. Episode #1.16: Fun and Games and Michael Ambrose. Aired: January 13, 1970 on ABC.
Playing: Tim Richmond. Episode #2.17: Log 24: A Rare Occasion. Aired: February 14, 1970 on NBC.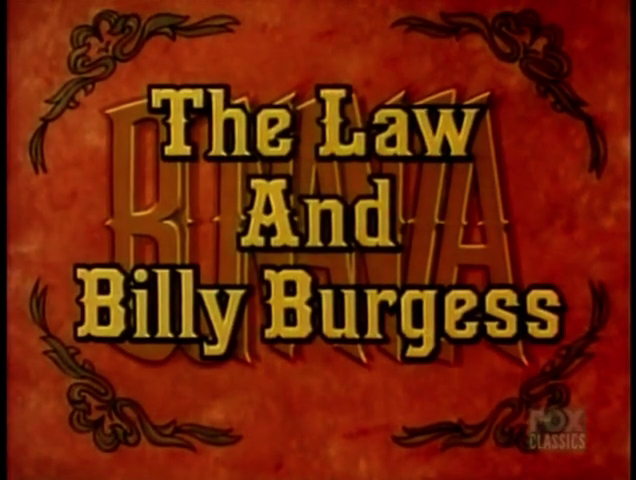 Playing: Billy Burgess. Episode #11.20: The Law and Billy Burgess. Aired: February 15, 1970 on NBC.
Playing: Rick Lambert. Episode #1.24: His Brother's Keeper. Aired: April 1, 1970 on CBS
Playing: Brad. Episode #2.26: The Loser. Aired: April 7, 1970 on ABC
Playing: Gene Sander. Episode #1921: In A Quiet Place. Aired: 1970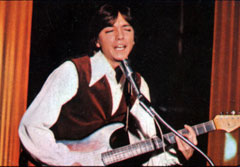 The Partridge Family
Playing: Keith Douglas Partridge. Episode list. Aired: September 25, 1970 to September 7, 1974 on ABC.
Playing: Officer Dan Shay. Episode: TV Movie - A Chance To Live. Aired: May 28, 1978.
David was nominated for an Emmy Award for his role in Police Story.
David Cassidy - Man Undercover Series
Playing: Officer Dan Shay. Episode: Episode list. Aired: November 2, 1978 to January 18, 1979 on NBC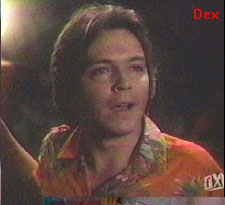 Playing: Danny Collier. Episode #3.15: Unholy Wedlock. Aired: January 12, 1980 on ABC.
Playing Ted Harmes. Episode # 4.4: The Oilman Cometh. Aired: November 8, 1980 on ABC.
Playing: Police Greely. TV Movie. Aired: December 14, 1980 on ABC
Playing Twins. Episode #6.5: Heir Presumptious. Aired: May 1982.
Playing: Jeremy Todd. Episode #6.11: The Songwriter. Aired: January 22, 1983 on ABC. Read a Fan's Tale of the filming.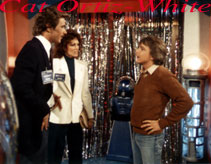 Playing: John Gordon Boyd. Episode #1.10: Joey's Here. Aired: December 5, 1983 on ABC.
Playing: Joey Mitchell. Episode #3.14: Career Move. Aired: May 22, 1988
Playing: Sam Scudder, Mirror Master. Episode #1.18: Done With Mirrors. Aired: April 27, 1991 on CBS.
Playing: Himself. Episode #2.9: Rockamentary. Aired: November 18, 1991 on NBC. Details here.
Tom Arnold
Episode: The Naked Truth. Aired: April 1991 on HBO.
The Ben Stiller Show
Playing: Himself. Episode #1.8: Greg Kinnear Segment. Aired: October 1992.
Playing: A Rock Star, Patrick Riley. Soap Opera. Aired January 27, 1993 in Germany. David sung Treat Me Like You Used To.
Sue played his wife. The show was filmed in July 1992 in Velden, Austria. Information from Tina Funk of "Just David."
The John Larroquette Show
Playing: Jefferson Kelly. Episode #2.15: Wrestling Matches. Aired: January 31, 1995 on NBC. John tries to help a famed 70's poet (David) onto the wagon.
Playing: Everett Price. Episode#2.19: War, Inc. Aired: October 16, 2003.
Playing: Boon VIncent. Episode #5.1: Vegas. Aired: November 2, 2004 on NBC.
Kim Possible
Playing: Roland Pond (Voice). Episode #2.23: Oh Boyz. Aired: April 2, 2004.
Playing: Vince. Episode #3.16: Playhouse. Aired: January 28, 2005.
Both David and Danny Bonaduce guests as auditioning band members Vince and Ron.
Playing: David Gallagher. "Ruby and the Rockits" is a half-hour comedy. Ruby is the teenage daughter of David Gallagher (David Cassidy) and niece of Patrick Gallagher (Patrick Cassidy), brothers and former teen idols in the band The Rockits. Since David continues to tour and pursue a life in music, he turns to Patrick to help raise Ruby, who joins the Gallagher clan consisting of Patrick, his wife and two sons. "Ruby" was written by former teen idol Shaun Cassidy (Patrick's brother and David's half-brother) and Ed Yeager.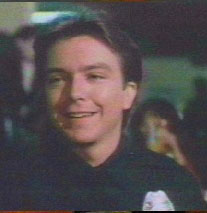 David Cassidy in Police Story.
CSI
David played a veteran poker player, Peter Coe. The episode, "Last Woman Standing" first aired February 27, 2013. Several professional poker players lose their lives and the CSI team is called in to investigate.
Special Thanks to Cat and Mark Wycoff for much of the information. Thanks to Dex's Web Site for some of the photos.