Partridge Family Videos
(1970-74, Screen Gems, Inc./Columbia Pictures)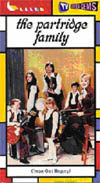 C'MON GET HAPPY!
"What? And Get Out Of Show Business?" C'mon get happy with this pilot episode to the sunny '70's series about a young widow who reluctantly joins her children's band. Carole Bayer Sager and Neil Sedaka wrote this episode's song, "Let the Good Times In." "Old Scrapmouth" Laurie refuses to open her mouth after she gets braces, which throws a major kink in the band's plans to appear on national TV. Mark Hamill (The Star Wars Trilogy) guest stars as Laurie's prospective boyfriend. "Anchors Aweigh" When Shirley's high school sweetheart--now a dashing Navy captain--sails into town, a jealous Danny convinces Keith that this officer is no gentleman! George Chakiris (West Side Story) guest stars as "Captain Cuddles." This episode was the last show of the series.
Read the article by Colombia House.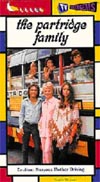 CAUTION: NERVOUS MOTHER DRIVING
"Knight In Shining Armor" The Partridges discover a talented intruder has taken over their studio while they were away. Teen heartthrob Bobby Sherman guest stars in the episode that led to his own spin-off series, "Getting Together." "But The Memory Lingers On" When a smelly stowaway boards the tour bus, he leaves a lasting impression on the group! A comedy classic that also features the family's first hit song, "I Think I Love You." "The Eleven Year Itch" Jodie Foster guest stars as a girl who develops a terrible crush--and a great right hook--on Danny. Bert Convy also appears, as a suave suitor who's smitten with Shirly.
6 PARTRIDGES AND 3 ANGELS
"The Sound of Money" Farrah Fawcett provides a delightful distraction when Danny and reuben try to trap a con artist who's threatening to sue the band. "When Mother Gets Married" Shirley's romance looks like it's leading down the aisle until Jaclyn Smith throws a curve into the courtship. "Double Trouble" Keith redefines the term "double dating" when Cheryl Stoppelmoor (Cheryl Ladd) agrees to go out with him on... the same night he's seeing someone else.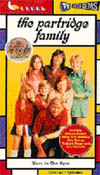 STARS IN OUR EYES
"Soul Club" Richard Pryor and Lou Gossett put the 'fun' in the funky in this famous episode voted one of the "100 Best Episodes of All Time" by TV Guide. "A Man Called Snake" Rob Reiner is a burly, born-to-be-wild biker convinced that Laurie has a crush on him. And who's going to argue with a man called Snake? "I Left My Heart in Cincinnati" Baseball great Johnny Bench is the guest star, but Keith and Danny are the ones who are striking out big-time with Mary Ann Mobley!