Partridge Family - The Complete First Season DVD
DVD Release Date: May 3, 2005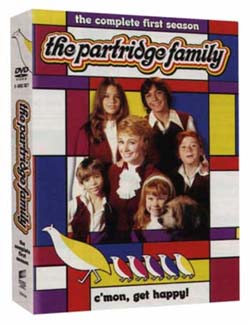 Number of discs: 4
The complete 25 episodes of Season One. Click here for episode list.
Featurettes:
Boarding the Bus
A behind-the-scenes documentary includes interviews with Shirley Jones, David Cassidy, Danny Bonaduce, Dave Madden and the writers and producers of the series. It focuses on the production of the first season, starting with the initial script for the pilot, the pilot's production, and then the show's weekly production thereafter.
The Sound of the Partridge
A music documentary about picking the songs, making the songs and music, and everything else involved with the soundtrack side of things. It includes never-before-heard details and stories. Look for interviews with Shirley Jones, David Cassidy, and many of the backgound singers, musicians, and even the arrangers.
Jump To The Musical Performances
Photo Gallery
The Partridge Family's album covers
Bonus episodes of The Partridge Family, 2200 A.D. animated series
"Car Trouble" and "My Son the Spaceball Star"
The TV commercial
This advert went to air in 2005.