Pop Star
Released: November 8, 2005. Studio: New Line Home Entertainment, ASIN: B000B5XP1K
The plot
J.D. McQueen and his 'Downtown' band are being chased throughout the streets by fans. Despite numerous private teachers, J. D.'s marks are miserable, especially Math. When pop star and teen heartthrob JD McQueen (Aaron Carter) lets fame go to his head, his mother sends him back to school and gives him an ultimatum - pass math or no summer tour! But what he doesn't anticipate is falling for his biggest fan!
Jane's life couldn't be more different. With freckles and braces, she is an ordinary, unpopular 16 year old.
When J.D. goes back to school the girls follow him around and the boys are jealous. On his first day at school his sits down next to Jane! He finds out she is good at Math, steals her book and then shows up at her home to return the book. He finds her bedroom walls adorned with posters of himself and the band.
Jane is surprised when J.D. takes an instant like to her. She is at first reluctant to fall for him She's confused, but ecstatic. Then she starts to suspect he's more interested in her as a tutor and friend than a girlfriend. Their lives are complicated by other students, the record company threatening to replace him in the band and his test anxiety.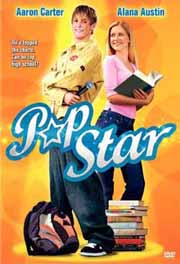 Cast:
Aaron Carter...J. D. McQueen
Alana Austin...Jane Brighton
Erin Tanner...D. J. McQueens Ex-Girlfriend
Mary Elise...Bobette
Vanessa Angel...Dianne
Tom Bosley...Harvey
David Cassidy..Manager
Deena Dill...Faith Brighton
Andrew Ehrlich...Timmy
Richard Gabai...Jerry Roberts
Leif Garrett...Janitor
Natalia Livingston...Mary Brighton
Alison MacInnis...Girlfriend
Jean Martirez...Reporter
Kyle Martirez McIntosh...Jake
Adrianne Palicki...Whitney Addison
Wes Robinson...Kevin
Tracy Scoggins...Judy McQueen
Robyn Stevens...Teacher
Sammy Stevens...Sammy
Stella Stevens...Henrietta
Rachel Thorp...Samantha
Kimberly Kevon Williams...Abby Banks
David Cassidy - The manager



More pictures here