Concert Review
Silver Reef Casino, Ferndale.
August 2, 2008
David put on a wonderful show at the Silver Reef Casino in Ferndale, Washington. The drive to the casino was quite enjoyable, and the scenery was magnificent! I left Denver on Saturday, where the weather forecast was 100 degrees, but arrived in Seattle to 65 degrees... I was actually COLD! It was a nice change from the weeks of very hot weather we've experienced.
Ferndale is about 2 hours north of Seattle. I arrived Saturday around 5 p.m. and checked in. After moving into my room, I called the entertainment director to let him know I had arrived. Long story, but through my job I have connections with the entertainment department, and he had told me to call him when I got there. I did, and he told me to meet him at the Pavilion at 7 p.m. Down at the Pavilion, a large line had formed, since David's show was general admission. I met Lenny (entertainment director) and Aaron (marketing director) at the entrance to the Pavilion. Aaron told me to find him after the show and he'd give me a poster. Lenny then took me inside the theatre (nobody in there yet) and told me "sit wherever you want!" Gee, where should I sit? I decided (after 1.5 seconds of thought) to sit front and center in front of David's microphone LOL.
The stage was about 2 feet in front of the front row! It was so close, my heart was pounding! Soon 8 p.m. came around and the lights went down and the band started up. I'm sure everyone can see my heart pounding through my chest by now! Terri tells us to "put your hands together for the one, the only, David Cassidy" and OMG, there he is. The most gorgeous man on earth!!!
Surprisingly, there were no equipment problems in this show. All went smoothly and David was in a very good mood, and also quite chatty. You know how he gets, he likes to talk. He said he hoped we didn't mind, but he likes to share his life with us. NO, WE DON'T MIND!!!! He mentioned that he loves to do concerts, but he hates "the business" of show business, and said he tries to stay away from it as much as possible, "that's why I haven't lived in Hollywood since 1992."
During SUMMER DAYS I got to dance with David on the "baby baby baby baby, hold my hand and we'll be free" part, as he held onto my hand for at least 5 seconds! Eeeeeeeeeeee!
During Echo Valley, a Japanese girl handed David her cell phone. The look on his face was priceless as he tried to figure out what was up with that phone! After the song he laughed and said "OH, it's in Japanese! Jeez, I thought my eyesight was REALLY deteriorating! That's the first time I've ever seen a phone in Japanese!" Then he babbled some Japanese sounding stuff into the phone with a funny foreign accent! Never a dull moment when David's onstage LOL.
He pulled up the stool and his acoustic guitar, and started telling about his relationship with John Lennon. Then he started playing HIDE YOUR LOVE AWAY, and it was quite funny, because he hadn't explained the "HEY" part to the audience yet, but about 6 or 7 people yelled out "HEY", at the wrong time! David cracked up over that and said "Hmmm, seen the show before?" and then explained WHEN everyone was supposed to say HEY. So on the next verse he said "two, three, four." but before he said "four" some guy yelled out HEY! David again stopped and said "no, not on 3 and a half, HEY after 'four'!" But each time he'd come to the HEY part, that same guy would be about half a beat too soon! We were all laughing by now. The song finally ended LOL.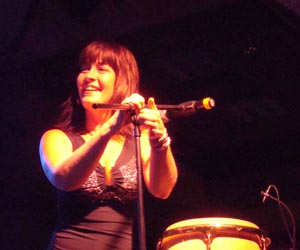 David asked the band to come back out, and Terri moved her congas to the front. She was messing with the microphones, trying to bend them correctly over the drum heads. David said "WHAT are you doing?" and she took one of the microphones and sang "LA LA LA LA..oh sorry!" She is just so darn cute, and her and David have the best chemistry! They did AIN'T NO SUNSHINE, then David said they were going to do something they'd never done before and never rehearsed. Terri took the microphone and David played the drums! Terri sang "Brass in Pocket" (an old Pretenders song) as David drummed. Terri can sing! And David can drum! Who knew!!???
A girl told David she had come from New Zealand to see him, and then named several other places she had previously seen David (Australia, London, etc.) David told her that New Zealand was his favorite place in the world to visit. Then David thanked her for coming so far, and she said her husband had driven all night long to get her there, so David then asked the husband to stand up and take a bow! He thanked them both and said he loved and appreciated everyone who has supported him throughout his career. Then he pounded his heart, which he does a lot, meaning he loves us. Sigh...we love you back David.
During the band intros, David mistakenly announced Matt as Frank. Then after Matt did his guitar solo, David shook his head and said "keep practicing!!" (Matt is only the best darn guitarist I've ever seen!) Of course David was joking!
During ITILY, a girl pulled David really hard toward her when he took her hand. He stumbled forward and almost fell off the stage. He gave the girl a really dirty look and backed way back, as far as he could, finished the song, and ran offstage. The lights came on immediately, no encore. Dumb girl, pulling David is the ultimate no-no!
Next morning, I went down to the restaurant where they had free breakfast. I passed Terri sitting in the lobby, and saw Matt in the restaurant, but he was just finishing and leaving. After I ate, I went back to the lobby, where I decided to sit in front of the fireplace, as it was so fricking cold there! Also I thought JUST MAYBE David would be leaving soon, as his band was hanging around in various places. Sure enough, about a minute later, I'm sitting on the fireplace hearth, and David and a security guy walk out of the elevators and toward the door! I took one look and thought OMG ITS HIM but I was rather frozen, I surely didn't want to run up to him or freak him out. David looked over at me and I blew him a kiss and said "until next time..I love you David!" and he said "oh thank you!" and proceeded out the door, where there was a silver car waiting, with the trunk open and the back door. David got in the back seat and Matt got in the front, and there was a woman driver. David was wearing jeans, a white polo shirt and a baseball cap. I was so thrilled that I saw him in the lobby, I just couldn't believe it.
So ends another wonderful show and adventure! Next up, Staten Island.