Concert Reviews
The 2002 Australian Concert Tour
David Cassidy Live in Newcastle
November 13th 2002.
Newcastle Entertainment Center, Australia
By : Nikki Callan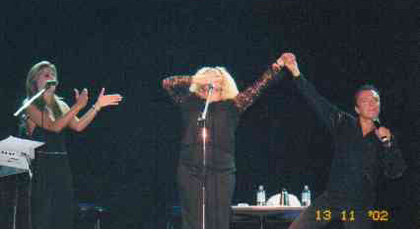 What can you say about a fantastic guy like David Cassidy - only WOW - and he certainly wowed the crowd in Newcastle on November 13th 2002.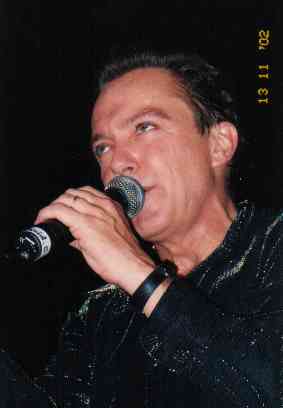 After waiting for David to return to Australia after 28 years and seeing him at Randwick Racecourse as a youngster, I did not know what to expect. What I did know however, was that my idol of 32 years would soon be standing infront of me and giving me all he had.
I wasn't disappointed at all. I had third row seats and as soon as the lights dimmed, was able to make my way right up to the front of the stage. The songs he sang were excellent, his voice quality was superb, his stage presence, so professional and his swagger so sexy. Let's face it - he's still got it!! He may be 52, but he's still the Master of Charm!!
When David finally came onto the stage and started his act, he tried to entice his fans in the auditorium to get up and dance, rage and have a good time - someone shouted out that they were too old - David's response "you're too old - how do you think I feel!!"
There were fans in the crowd to whom David talked to - they had brought along their children - some as young as 13 and others were 17 - this gave David a great cue into his Beatles rendition of "I saw her standing there" - this finally got a few others onto their feet, much to David's delight.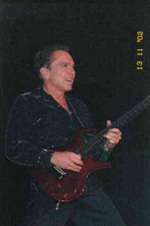 In the crowd too were three ladies (who were a few years younger than David) who were all born on the same day as David (April 12th) - and they made comment to him that they always had a birthday cake for him when they celebrated their own birthdays - this really touched David and to their delight he picked up their camera and took a photo of them - I suppose this reinforces what a great guy he really is.
Looking back now I still can't believe that David was standing so close infront of me and touched my hand many a time. It will indeed be an experience I will treasure and remember for a long time to come. My only hope being that it won't be another 28 years before his return - I know I'll be too old to get up and 'boogie' as I did on that sultry night Newcastle in 2002.
Nikki Callan