Concert Reviews
The 2002 Australian Concert Tour
David Cassidy Live in Brisbane
November 9, 2002.
Brisbane Entertainment Centre, Australia
By : Diane
Hi everyone,
I have just got home from the Brisbane concert, which was brilliant. My story actually started before the concert and I am so wired by the most amazing day I have just had, that I just had to share.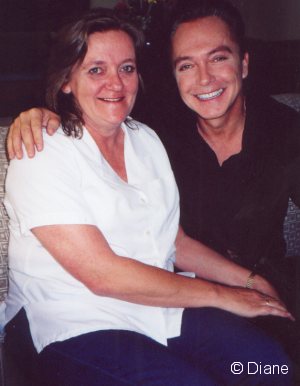 It all started on Friday, I went out to the airport to see him arrive. I didn't have a ticket to the concert, so I thought if I could just see him and get a photo, it would be a buzz. I actually made it on the channel 7 news that night. There was a minor scuffle with the TV crew and David, and he didn't want to stop and say hello to the small group of fans that were there. We did actually get to see him in the car park. A few of the ladies had actually cornered the poor man, I stood back for a bit, but hey...when in Rome, so in I went and got a to say Hi and got a kiss. I also managed to get a free ticket to the concert from a radio station here, so I went home totally happy.
Then it got real exciting. Saturday morning, Channel 7 rang me and said that they were trying to get David to talk to some of the ladies that were at the airport, and asked if I would be interested.........HELLO. The reported rang back and said that David had agreed to meet 3 ladies at the hotel that afternoon, and that I was one of the lucky 3. Well, you have never seen anyone move so fast as I did, I could not believe my luck. Less than 24 hours before, I didn't even have a ticket and here I was going to meet him in person, at his hotel.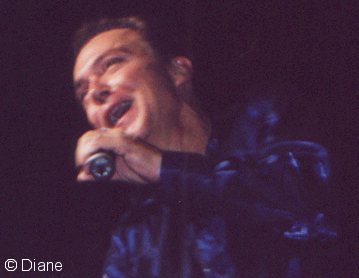 The TV crew met us at the lobby, and we were escorted upstairs. We were interviewed (yep, got on TV again) and then about 10 minutes later in came David. He said hello, sat down, and for the next 45 minutes we just talked about everything, from the Melbourne cup to married life and what he has been doing over the years. It was amazing, he was so nice, the tv crew just stood back and let us talk. We each then got a photo and an autograph, well actually a couple of photos.
Now after that it was very hard to get me to sit still for more then 10 seconds, I have been so totally wired for the whole day. I met up with the ladies again before the concert and they were as wired as me.
The concert was THE BEST. As soon as David came on, I made a bee line for the stage and stayed there. At one point he even pointed to me and smiles and said hey!.....thump.....he remembered me!. He sang lots of old song and lots of new songs. It could be days before I have enough reasonable logic returned to my brain to remember all the songs.
He sang great, he looked good, and he made this lady very very happy....LOVE YA DAVID...THANK YOU
Diane