Concert Reviews
The 2002 Australian Concert Tour
David Cassidy Live in Perth
November 21st, 2002.
Burswood Theatre, Perth, Western Australia
By : Denise Patrick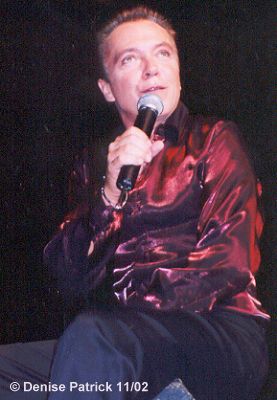 This final show of David's was an excellent night. My husband, sister and sister-in-law came along for the experience. Once again we were in the front row centre stage and couldn't have asked for better seats. David came out on stage wearing a burgundy shirt, once again looking a million dollars ... how does he do it? He sang all the same songs but of course we all know that each concert is individual because of his interaction with the audience. Tonight was no exception because David was only too willing to shake everyone's hands and to take gifts from fans as they came up to the stage.
He spoke of his love for our country and how he has had a great time here and would love to come back next year ... let's hope he does.
At one stage someone yelled out "sing Puppy Love" so he did sing "and they called it puppy love" and then said "I think you have me confused with someone named Donny" and of course we were all yelling out Puppy Song hoping he would do a brief part of that but he didn't. He did a brief rendition of La Bamba the night before when someone yelled out "areeba, areeba" to him.
On many occasions prior to the concert I had told my husband to make sure he looked like he was enjoying himself, even if he wasn't, because I knew that David would single him out if he thought he wasn't getting into the spirit of it all. Of course being the typical male he is he didn't take my advice and got David's attention. David lent down and said you can clap you know and my husband couldn't make out what he was saying and replied 'what' to which David said to someone up the back "put a spotlight on this guy" which they did and then he said you know clapping when you put two hands together like this and showed him what to do. It was funny and my husband did laugh along with us all and did clap to every song after that. Maybe next time he will take my advice, lol.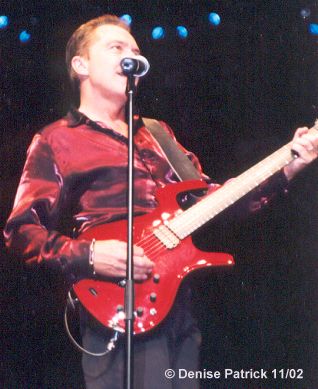 I did get to touch, hold David's hand, kiss me quite a few times again tonight and I know I'll treasure those memories forever. He sang part of cherish to me and what an experience that is.
I asked my husband, sister and sister-in-law after the show what they thought of it all and they all said that David was so professional and sounded terrific. They thoroughly enjoyed the whole experience. My husband even said a few days later that he thought it was the best concert he had been to and he isn't a huge fan of David like I am so I think that speaks volume for David's charm, talent and professionalism.
Because of my love for David's music and the man himself I have met so many wonderful people both here in Perth and when I was in Melbourne and for that I would like to say to David "Thank you for the music, the memories and the greatest time of my life". I had to wait 28 years to finally get to see my first love in concert and I am so grateful to have had the opportunity to see him at this stage of my life because I know I'll never forget any of it and will re-live it over and over throughout the coming years.
David certainly did ROCK US DOWUNDER and lets hope he does come back again!!!
Denise