Concert Reviews
The 2002 Australian Concert Tour
David Cassidy Live in Sydney
November 16th 2002.
Sydney Entertainment Centre, Australia
By : Neil
'Rock Me Tour 2002' Rocks Sydney!
On Saturday, November 16, 2002, David Cassidy played his first Sydney concert in 28 years. Although much has changed since 1974, David's ability to win over an audience hasn't, with some of them not even being born the last time he appeared here.
For me, it was the second time I have seen him live, with the first being 'EFX' in Las Vegas in 1997, however, this time was going to be more special, for a number of reasons. Firstly, last night was a concert, not a theatre production. Secondly, it was a concert here in Australia, somewhere I thought David may never play again, and thirdly, my wife, Louise, and I, through a contact at Universal Music had been given the opportunity of meeting David prior to the show.
We arrived at The Sydney Entertainment Center around 7.30pm, and immediately checked out the merchandise stand. On sale was the 'Then And Now' CD, tour program, and 'David Cassidy Rocked My World' T-shirt. After purchasing two copies of the program (one to keep and the other one to hopefully have signed and then framed), we wandered around for a while. It was great seeing such a wide range of ages and fans, but unfortunately, we missed seeing two well known local fans we had hoped to find, Jim Salamanis, and Jade, who operates 'The Downunder David Cassidy Fansite' and message board.
At 8.00pm, the rest of our group (including my sister who introduced me to the album 'Up To Date' way back in 1972) went in to catch the support act, Teal, while Louise and I waited outside. A few minutes later we met up with representatives from Universal Music, and we were then joined by a couple of freelance photographers. At about 8.15, tour promoter Aldo Lennard met us, and issued us with guest passes. He mentioned that David was very happy with the tour so far, and that the audiences had been great, although smaller than expected in most cities. At full capacity, the Sydney Entertainment Center can seat about 12,000, but for David's performance, curtains had been used to block off the upper sections. The area remaining (referred to as 'intimate mode') can accommodate 4,000, with around 3,000 tickets having been sold for the evening's performance.
We were led to the green room, where we waited for David. There was another group of fans there, four sisters, who had arranged to meet David through Sydney radio personality Alan Jones. One of them, Wendy, is a huge fan, and the other three had arranged her ticket and meeting with David as a surprise for her, and she had only been told that morning.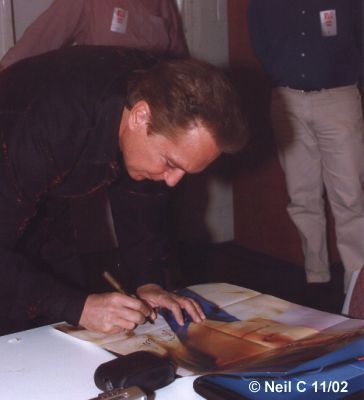 A couple of minutes later David arrived. He was dressed in his stage outfit - black pants, a black shirt with red thread through it (to give it a glittering appearance), and black boots or shoes. As he entered he said "Hey everybody, how y'all doing?" He was then introduced to the staff from Universal and the photographers and then to the four sisters. He paid special attention to Wendy, and bent down and kissed her, as she was seated. We then introduced ourselves, and as we shook hands he said, "How's it going?" After chatting a bit more, I asked if he would mind signing a couple of things, and he said "Sure, no problem". He signed my program 'To Neil - Cheers: David Cassidy' and while he was doing that we mentioned that we had seen him in 'EFX', which he remarked had been "a lot of fun, but dangerous". I then asked if he would mind signing a slightly older picture of him that I had brought along, and he said "Sure". I remarked that he may not have seen this particular poster for a while, and he replied, "You wanna make a bet, mate!" The picture was the 'Romance' poster that was included with the album here in Australia (same as the front cover shot), and as he signed ('To Neil, All the Best: David Cassidy') he commented "That picture isn't OLD, it's only about 20 years old. from 1985". He then happily posed for photos with us, the sisters, and the staff from Universal, before thanking everyone for coming, and shaking everyone's hand. I told him to 'knock 'em dead' and he said "Thanks" and then to the room "I wanna see all you guys screaming and cheering, OK", After a final wave and thanks, he left to get ready for the concert.
After grabbing a drink at the bar and a T-shirt from the merchandise stand, we headed inside and found our seats - 10 rows back and to the right hand side of the stage. The house lights dimmed and lead backing vocalist, Lisa Mayer came out and announced "Good evening ladies and gentlemen and welcome to The Sydney Entertainment Center. Tonight it's David Cassidy!" The audience went wild and the band played their intro medley (including such unexpected pieces as 'Shaft' and 'Heartbreaker'), before David hit the stage to thunderous applause and screaming.
Strapping on a red guitar (not his standard black and white Fender Stratocaster) and ripping into 'I Can Feel Your Heartbeat', David appeared to be having the time of his life. After checking if the audience was "ready to rock tonight", he broke into 'Hush', the first of a number of songs he performed, but has never recorded. Breaking venue and tour rules, flash bulbs were going off around the stadium (Security didn't appear to mind) and people about 5 deep crowded to the front of the stage.
As the familiar opening to 'I'll Meet You Halfway' (one of my all-time favorites) started up, David thanked everyone and announced "it's great to be here". He referred to Sydney as "a fabulous city" and mentioned that he had "very vivid memories of Randwick Racecourse" (the scene of his 1974 concert). The audience went wild and he then said that he hoped we all had vivid memories of the next song, which was one of his first top 10 hits in the USA and is included on his new album. At one stage he changed the words to "Will there come a day, you and I can say, we can finally touch each other" and "will there come a time, we can find the time, to reach out to touch each other". It was very funny and obviously pleased a lot of fans!
He then shifted to one of his newer songs, 'No Bridge I Wouldn't Cross', as the audience grabbed at his feet ("that's a shoe"). During the course of the night he repeatedly told those in the front rows he was shaking hands with to "don't pull". Most of the time he was reasonably good-natured about it, although he didn't look happy whenever he asked fans to stop. However, on one occasion he simply pulled back from the crowd, glared at them, and returned to the middle of the stage to continue the song (he returned to the shaking hands a minute, or so later). From where we sat, he appeared more than reasonable in his requests, as a fall from the stage due to a fan pulling his hand could have had serious consequences, and with the distance he was reaching out to hold hands in the audience, it could have easily happened.
The audience then started to scream when he then announced that "We're gonna rock a little bit tonight, we're gonna roll a bit tonight, we're gonna do it slow tonight as well, and we're gonna do it fast and hard too!" Someone mentioned that they had waited 25 years for him, to which he responded "you're 3 years too late Darling", as he hadn't been to Australia in 28 years. After a bit more chatting with the audience he launched into "one of my very favourite songs from when I was with The Partridge Family" (I think the only time he mentioned the group during the evening), with the song being 'Point Me In The Direction Of Albuquerque'. This was followed by the familiar opening to 'Daydreamer', which led to more screaming among the audience. He reminded everyone that the song was a number 1 record throughout the world the last time he was in Australia, and everyone sang along with him, especially the chorus.
After asking everyone to remember where they were in the summer of '72 he launched into a great version of 'Summer Days'. David then noticed a photo being held up of him at the Melbourne Cricket Ground from 1974, in which he was wearing blue, sequined, denim outfit. Apparently, the costume disappeared sometime after that and it was later sold at auction. The fan that purchased the outfit held onto it until last April and surprised David by presenting him with at The Hammersmith Apollo theatre in London. He joked about the outfit, but was genuinely touched by the gesture.
He then announced that there was a song that came into his life, by a group, which one fan, thinking he was talking about The Beatles' 'Please, Please Me', called out the name of the song. David, heard her and responded, grinning, with "No - but I will please you later". He then mentioned how when he was 13 he had seen something on TV on a Sunday night that changed his life and made him want to play guitar. Someone called out "Elvis", to which he jokingly replied "No, Elvis is dead honey. I'm not THAT old!" Then, after stating "If you can't get up and rock to this Sydney, you can't rock to nothin'", he broke into The Beatles', 'I Saw Her Standing There', the second song of the evening that I had never heard him perform before.
A great and soulful version of 'Ain't No Sunshine' followed, after which David mentioned that "This next song was top 5 for me in the UK back in 1985". The song, of course, was 'The Last Kiss', and this song transported me back to the time when the 'Romance' album, which I still believe to be one of his best, came out. During the song, someone held up a copy of the same 'Romance' poster David had signed for me earlier. This was followed by a killer version of 'Rock Me Baby', with someone else in the audience holding up a copy of the album from 1972. During the night lots of posters, album covers, drawings, scarves, and even membership certificates for David's new fan club were held up by fans, with David peering through the stage lights to see what they were.
After picking up a fan's bottle of water from the front of the stage and joking "It's not safe drinking water around all this electricity", David mentioned that it was a wonderful experience being back in Australia, and that he hoped to return again some day. He then thanked Universal Music, his record company, for their support, but "mostly, I want to thank each and every one of you for all of your support since 28 years, or more.. well, it's 32 years now, but who's counting, c'mon!".
Probably one of the best moments of the whole evening, which started out funny, but ended up being poignant, occurred when David held the microphone down to a woman in the front row who said, "David, my mother wouldn't let me go and see you at the WACCA (Western Australia's cricket ground - scene of one of his 1974 concerts), but my 2 best friends did, so that's why I had to fall in love with Suzi Quatro and become a lesbian!". Although funny, David turned the comment around to show that 28 years ago that type of comment wouldn't have been OK to say, but now times have changed. "Today we live in a world that should be what it is, which is free and open for all of us to make the social choices that we need to make in our lives, to make us happy, to live together in harmony. We are after all brothers and sisters, now more so than ever - and I think you know what I mean when I say that. You know, my country and your country are aligned more than ever, and I'm really, really proud of that and I hope you are too". After praising Australians, our country, and how much he and everyone with him had looked forward to returning and performing here, he dedicated the next song, 'Cherish', to "all of you tonight".
A quick change in tempo turned the mood from reflective back to rock, with 'I Woke Up In Love This Morning'. This was followed by one the coolest band introductions ever. As usual, each member had the chance to solo as they were introduced, but David linked each person together with a brief song about them - very bluesy and funky! After the introductions, the band broke into the Rolling Stones' classic 'Gimme Shelter' - the third song of the night that I had never heard David sing before.
Someone in the audience called out for David to sing 'We Could Never Be Friends', to which he responded "what do you mean, we could never be friends... what happened?... oh, it's a song I sang. OK, it's on the 'Cherish' album, how's it go?" A few people up front started to sing it, with David chiming in on "'cause we've been lovers so long, so long" and then stating "Well, there's another one I've forgotten!" He then spotted someone holding up 'The David Cassidy Songbook', which he said was just what he needed! He had Lisa Mayer find a particular song in the book that he claimed to keep forgetting the words to while he chatted with fans in the first few rows. She then passed the book back to him and he launched into 'Could It Be Forever', much to the delight of the audience.
It was obvious that the concert was drawing to a close, as he announced the song that he will sing until the day he dies - 'I Think I Love You'. He started off the song with some new lyrics before shifting to the all too familiar "Ba, ba, ba, ba, ba, ba, ba, ba, ba...", which brought the entire Entertainment Center to it's feet, with everyone singing and cheering along. As the song concluded, David called out "I love you Sydney - Good Night", and left the stage. After much applause and cheering, he returned and performed two further numbers, 'How Can I Be Sure', with his final number being another song he has never recorded (bringing the total for the night to four), 'Hollywood Nights'.
Again, he left the stage. The house lights came up. The concert we'd all waited so long for was over.
We expected a great performance - we got it.
We expected the best of the old and the new songs - we got it
I hoped to meet someone who had brought me much musical happiness over 30 years - my wish came true
I didn't know exactly what to expect if I was fortunate enough to meet him - I found him to be a gracious man who appreciates his fans.
Neil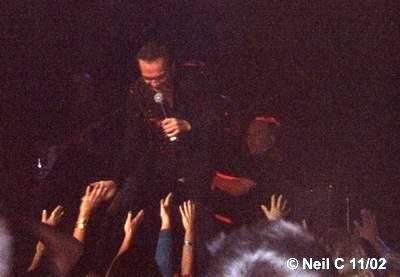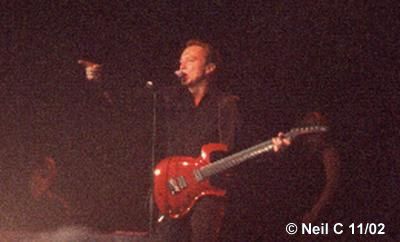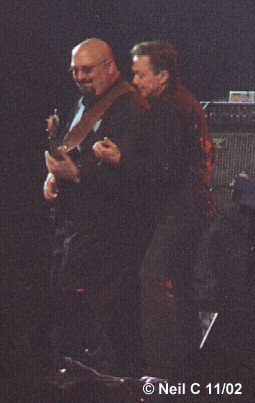 note : These images are © Neil C, for your viewing pleasure. Please do not use them without permission from the owner. Thank you for respecting this.