Concert Reviews
The 2002 Australian Concert Tour
Debbie meets David Cassidy in Brisbane
By : Debbie Davidson
November 9th 2002.
Goal Number Five
This story starts many years ago, 1979 to be exact. I was at a Church conference and we were encouraged to make 5 goals. As a 19 year old, mine were....
1. Get married
2. Have Children
3. Live in another country
4. Learn another language and
5. Meet David Cassidy. I had been a full on fan of David's in my early teens and even went to his Brisbane concert at Milton Tennis Courts in 1974.
Little did I know that the first 4 goals would be achieved in 5 years and the last one would take 23 years. Now back to 2002. David Cassidy was due in town and as I worked 10 minutes away from the airport I thought I'd run out in my lunch hour and just stand in the background as he arrived. The airport is another story. I had fun singing some songs with a few of the other fans and talking about his last visit. One of the Channel 7 reporters asked me if I had a story to tell and I shared with her about the 5 goals I had set as a 19 year old. She took my name and that was it, didn't even make the news that night.
Aah well, kind of disappointing in some ways with a bit of a quiet disagreement with David and the press happening inside the airport and outside until the limo turned up. Not exactly what I had expected!
Next day I am at home looking forward to seeing David in concert that night when the phone rings. A lady looking for THE Debbie Davidson who was at the airport yesterday. I kind of did a double take and said yes you are speaking to her. Well, she explained David was upset at the goings on at the airport and wanted to make it up to his fans. Angela from Channel 7 had set up a time with 2 other fans and then remembered me. She wanted my permission to ask David's manager if I could also come along. Well, what is a girl to say!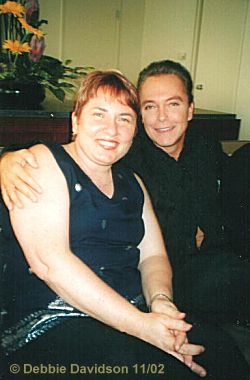 Yes of course!!!! Running round the house like a mad thing I get myself dressed and looking presentable and drive into the Sheraton where I am to meet the other two ladies.
Dawn & Diane and Angela from channel 7. We were spirited away in a lift to a floor high up in the building and then into a lounge/dining room. I felt so nervous!
In walked David and we all introduced ourselves and shook his hand gave him a kiss on the cheek. I sat in the middle of we three fans and then David asked if he could sit next to me. Picture this girls, David Cassidy asking you if he can sit next to you, what do you think the answer was ? I had brought in an old Partridge Family album and we used it as a talking point. He asked about Milton Tennis Courts where he played last time he was in Brisbane. I chuckled when he was told they had been pulled down.
His response was "They always seem to be pulling down or blowing up places where I have been". My response was, I think that's a sign of our age and he said:
"Well I don't know, you look pretty good and I said you look great yourself!!"
He was very nice and as the cameras were rolling I had some great laughs along with Dawn and Diane. Diane explained at one point that The Partridge Family was still shown and was on at 5.30 am in the morning. I turned to David and said "Honey, I ain't that dedicated!"
He came back with "Neither am I at that time of the morning!"
Overall, I gathered David was overwhelmed at the response after not being in Australia for so long. He truly can't believe that the fan base here is still so large, I mean we don't even get to see him like they do in England and the States.
Towards the end of our time I was asked to share with David those 5 goals mentioned previously. I said to him "You probably think this is crazy". He gave me a huge hug and a kiss on the cheek and said, "No, not at all!" What a lovely guy!.
So, there it is. "Dreams are nuthin' more that wishes ......"
23 years later it did come true! Don't ever give up on your dreams.
God Bless you!
Debbie