Concert Reviews
The 2002 Australian Concert Tour
David Cassidy Live in Perth
November 20th 2002.
Burswood Theatre, Perth, Australia
By : Mary Liprino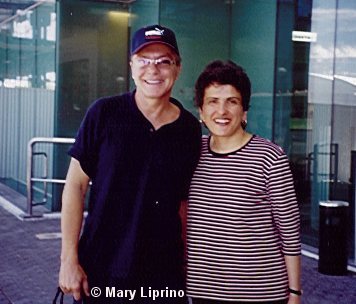 I saw David arrive at Perth airport on Tuesday, November 19th 2002. It was a great thrill, to see him again, after 28 1/2 years!
I was at this Perth concert at the W.A.C.A. in 1974. It was mayhem back then. Surprisingly enough, I was the only fan at the airport to greet him. No media either.
He was with Candace and Lisa. I asked for a photo with him and he was only too obliged to do so. He was very sweet and considerate. I had hoped and prayed that I would get to meet him while he was in Perth and my prayers were answered. Thank God!!
I went to David's two Perth concerts, front row both nights. He was absolutely awesome! I felt like a teenager again, screaming, clapping and getting very excited at the sight of this gorgeous, sexy, talented man!!
He put on a terrific show, a true professional.
I handed him a teddy bear at the second show, for his son Beau, and to my unexpected surprise he bent down so I could kiss his cheek. I'll never forget that very special moment. The biggest thrill of my life. Keep on rocking David - I love you!!
Mary Liprino
View Mary's concert pictures : Perth November 20th and Perth November 21st