Concert Reviews
The 2002 Australian Concert Tour
David Cassidy Live in Sydney
November 16th 2002.
Sydney Entertainment Centre, Australia
By : Karen Nicita
Hi,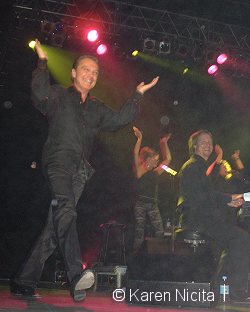 It's Karen, still coming to earth after David's Sydney concert. I waited 28 years for this event, and I certainly wasn't disappointed. Had seats in the second row and sales weren't looking good. It was a big venue but cut down due to ticket sales.
The support band was quite good, but nothing could upstage David. There were the die hard fans with their memorabilia, but everyone was on a high and chatting to each other, waiting in anticipation for that final moment when David would appear.
The only thing that marred the concert was those fans trying to pull David off stage... he was great. Full of life and vitality.... I'm sure if I was game to close my eyes I would have been 14 again. He is a great performer, certainly performing for the crowd. He talked, joked, sang and most of all gave his fans a great night.
There were promises of coming back again.... I hope so. I would love a smaller venue, though at this concert I was actually able to touch him, and be close.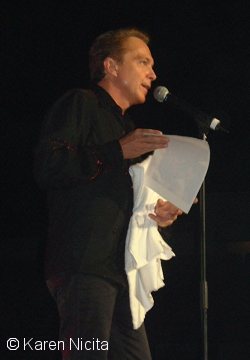 Thanks for a great night David, and keep on rockin' Loved it....
Karen Nicita