Concert Reviews
The 2002 Australian Concert Tour
David Cassidy Live in Perth
November 20th 2002.
Burswood Theatre, Perth, Australia
By : Denise Patrick
The first Perth show in my opinion was the best of the 3 concerts I went too. After hearing that he was sick in Adelaide and all the problems he had with his equipment I was understandably worried about how David would be. I will also admit to having a panic attack thinking whether he would even make it on stage, if he was still sick. But my fears were just that, my fears, because David came racing out onto the stage at the Burswood Theatre looking like a million dollars, wearing his dark blue shirt.
He was in terrific form from the very second he appeared on stage. He went straight into Heartbeat followed by Hush and then before he started No Bridge he commented on how quiet the audience were which did get things going. He mentioned a couple of times while whispering into the microphone how quiet we were but it was only due to the smaller crowd as the 1st show was in fact the 2nd concert to go on sale. He gave the audience a huge amount of interaction which is what every David Cassidy fan wants and we were certainly not disappointed.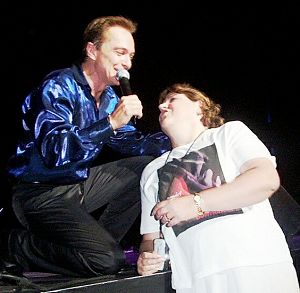 Sue made a wonderful banner which read "Ain't No Sunshine When David's Gone" and her and I held it up when he was about to start singing that song and he asked that we stand up so he could read it and said "that's so nice". He said to turn around and when the audience read it they all went ahhhhh. It was great especially for Sue as it was her 1st David Cassidy concert and what a way for it to begin. I'm so happy for her. So many of us got to hold his hand on more than one occasion and I got to kiss his cheek and have quiet a few photos taken with him at the stage after he noticed my t-shirt. I didn't notice anyone else with a David Cassidy t-shirt on so I guess that might be why he noticed it.
At one point David was putting his guitar on and said "Do you know why I'm putting this guitar on my body" and someone up the back yelled out "To hide your erection" at which point he looked up smiled and then went on about seeing the Beatles on the Ed Sullivan show and went straight into I Saw Her Standing There. Another comment that was shouted out was "David you're sex on legs" which made everyone laugh, I think even the band had a laugh at that one.
He sang all the usual songs but only did one encore How Can I Be Sure and then before we knew it the show was over.
Although by the end of the night I had very little voice left I was still able to re-live it over and over with other fans until 3am and the best part was that we still had another show the next night.
Denise