Concert Pictures
BB Kings, NY
March 4, 2017
What makes David Cassidy so unique? Whilst we may all have different thoughts on this, for me his presence coincided with major events of my life in the 1970s and onward to the present.
Upon immigrating to Canada as a child, it was the Partridge Family that gave me hope for a better life beyond the racial prejudice I faced in school and on the playgrounds. When I graduated dental school, David was making his comeback with 'Lying To Myself' and I celebrated the purchase of my practice with the brief but exciting tour of 1991. Finally after selling my business in 2015 I treated myself to David's shows at BB King's, New Brunswick and then onto Boca Raton where he surprised us with the first live performance of 'Night and Day'.
Just as the excitement was building and after some impressive shows in 2016, David made the announcement of his retirement and suddenly BB King's became the last concert. Of course I had to be there as were hundreds of people lined up way down 42nd street in Times Square. Youngsters must have been wondering which current superstar was performing this very cold March evening in the busiest section of New York city. 'Sold Out' was the reply given to anyone looking to purchase tickets and no one was willing to sell what they had even at the high prices people were willing to pay.
The set list was about the same as it has been for the last fifteen years which could be described as something for everybody but the atmosphere was electric. Many fans paid exorbitant rates for last minute flights to New York to be there supporting David as they have for all these years.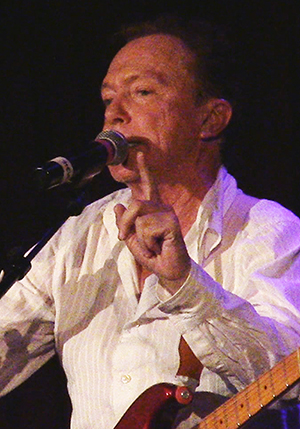 Aside from the request to not use camera lights and a touch of laryngitis, David summed up the evening at the start when he told us that anyone expecting a 75 minute concert should call their limo driver and tell them it was going to be a lot later than that. We were there to share a special evening with a performer who gave us happiness and an escape from the drudgery of real life for more than 4 decades.
He told us stories about his meeting with famous people, his Partridge Family days, his eye surgeries and the reasons for putting his touring life to rest. When he sang he was the superstar we all expected to see on stage but when he talked, he was our friend sharing his life with us. It was as intimate as it could be in spite of the screaming fans and I felt once more that the two day journey to New York through the freak snow storm was worth the effort.
David had us laughing early when he told us that "I am going to talk a lot. People complain 'oh God you talk so much'. Really! Well I'm sorry about that but what are they going to do, fire me tomorrow?"
Talk he did but he also sang and he joked and he made us happy as he always does. "I recorded this in six minutes literally 25 steps from the Columbia Lot where we were shooting the Partridge Family" he said before gracing us with a 1970s styled 'C'mon Get Happy'.
"My very first triple platinum album was called the Partridge Family album. I think I was still 19 when I recorded it…I can Feel Your Heartbeat even though you didn't say a word." Still a timeless classic all these years later delivered by a timeless performer.
"One of my favourite songs I recorded as a young lad written by my good friend Tony Romeo" said David prior to singing a committed version of 'Point Me In The Direction of Albuquerque. Fans waved with all their might as David hit the chorus prompting Felipe to pound the drums harder than usual.
David related the story of his first and subsequent meeting at the Grammys with BB King prior to the bluesy 'Sweet Little Angel'. Three solos in a row from David, Craig and Dave prior to the last verse made the song a bit different from versions I've heard before.
At this point he invited Teri Cote as a special guest star to join the band first to sing her well known solo, 'Brass in Pocket' (with David on percussion) and then to play drums on the next song, 'Hush'. It was nice to see her back with her musical brothers for the first time in about two years.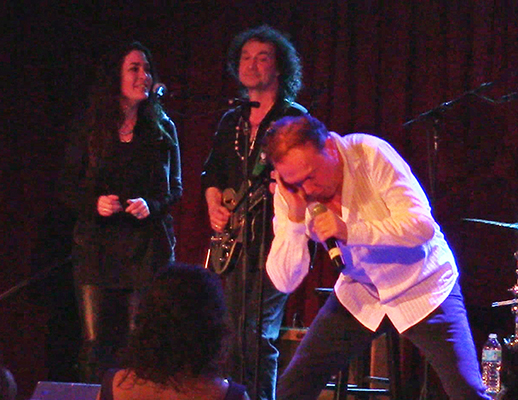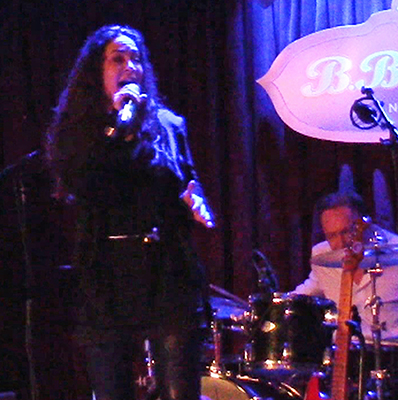 'Hush' has been a concert staple for over a decade and is often performed differently at each concert. David either changes the lyrics or the tempo or the solos which makes for interesting listening. It's a song he heard on a car radio back in 1968 at the moment he was offered his first professional acting job, hence the inclusion in the set list. Tonight's version was more complete with extra lyrics and a focus I've missed seeing in recent performances. Each time David got to the 'Hush, hush, thought I heard her calling my name now', he would turn back to Teri with a big smile to hear her echo the words as she did for many years.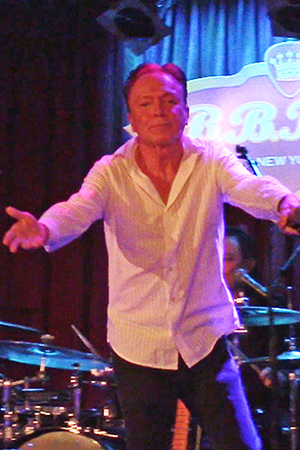 Felipe was back on drums with large SD6 Swizzle B sticks for, in David's words, "one of my three favourites", 'I'll Meet You Halfway. Written by Gerry Goffin, David was performing it with feeling prior to stopping mid-way because someone was shining a camera light in his face. A few seconds later, he flashed a smile and picked up where he left off finishing the song in style. Interestingly the stoppage actually gave us an extra repetition of the chorus when David started singing again.
'Daydream Believer' followed in dedication to "My late, great friend, Davy Jones". He asked the audience to sing with him during the chorus which they gladly did. As he sang he moved from one end of the stage to the other making eye contact with all the men and women in the audience.
"This one I dedicate to one of the greatest songwriters in the history of mankind and an absolute genius…Cole Porter". David learned 'Night and Day' from his father and he stated that he is hoping to have it on his next and possible last album, 'Songs My Father Taught Me'. Let's hope this happens soon.
David pulled up a stool and started, "I do not go online anymore because I have a life that doesn't have anything to do with anyone else's life. It's my life, it's your life. Listening to somebody else's opinion of you, why would I care? Do you know me, are you close to me, have you been around me? No. I'll just write about you because it will make me feel important."
David quickly summarized the negative influences of social media and got me thinking about how easy it can be to criticize and hurt others simply by going online. He told us about how much he appreciated Jane running his website and then about the importance of his grandfather as a mentor when his father wasn't around in his formative years.
A nice version of 'In My Life' followed keeping with the theme of his discussion. The end of the song led to the introduction of and solos from all the band members. Dave Robicheau surprised David by singing 'On The Street Where you Live'. Both sang parts of the chorus together and one could see David truly loving it.
Felipe impressed by first thumping with brushes and then pounding with his bare hands. Ouch! "You're amazing" said David.
"A killer human being with talent that's way off the chart, Frank Fabio". One thing I've always enjoyed about Frank is the different solos he performs at every concert. One can see the anticipation in David's face wondering what will be coming up next and he's never been disappointed.
"All the way from Chicago, Illinois, Mr Craig J". I haven't heard many keyboardists with the talent of Mr J. Beside his ability playing the instrument, he can also arrange, record, remix and goodness knows what else. Craig's insistence spurred David to sing brief versions of 'On Broadway' and 'Summertime'. The second verse of 'Broadway' was a slow bluesy drawl while 'Summertime' was done at a slightly faster than usual tempo.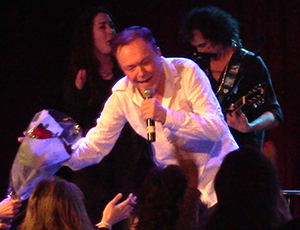 Aside from making funny faces during the spoken part of 'Doesn't Somebody Want To Be Wanted', David charmed us with solid versions of three Partridge Family hits to close out the concert. A pounding bass line from Frank and Hendrix style licks via Dave underlined a heavy rock delivery of 'I Woke Up In Love This Morning'.
'I Think I Love You' had the audience up on their feet singing along to one of the biggest selling singles of the 1970s. Perhaps David's feelings about his career and fans can be summed up by his favourite verse of the song "I don't know what I'm up against, I don't know what it's all about, I got so much to think about, I think I love you…"
Through the ups and downs over the last 40+ years David has persevered mainly due to his immense talent and the love for and from his fans. As he told us a couple of times during the concert, his career started in New York and the tours should end a few steps from his first acting gig near Times Square. BB King's on West 42nd Street was therefore the correct location for this performance.
Luckily David did repeat a few times that he is not retiring and will perform again. When it happens hopefully most of us reading this review will be there to cheer him on.
Give me a D! Give me an A! Give me a V! Give me an I! Give me a D!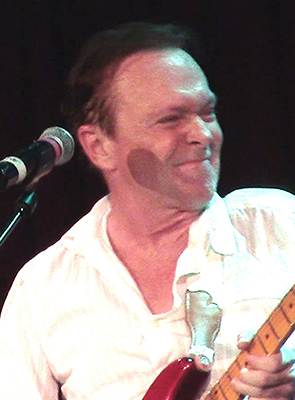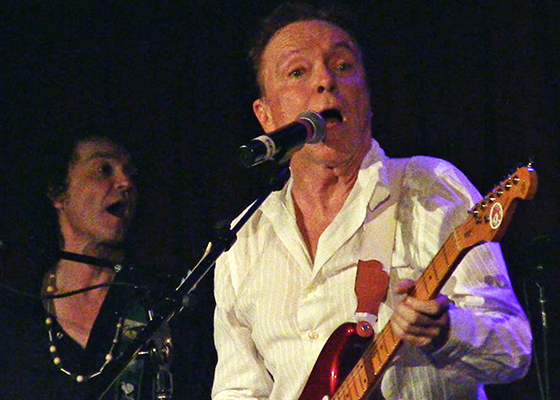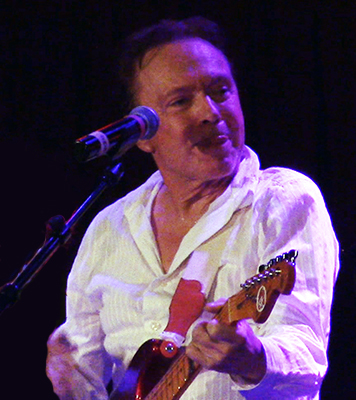 Thank you Lucio for your review and for sharing these photos.